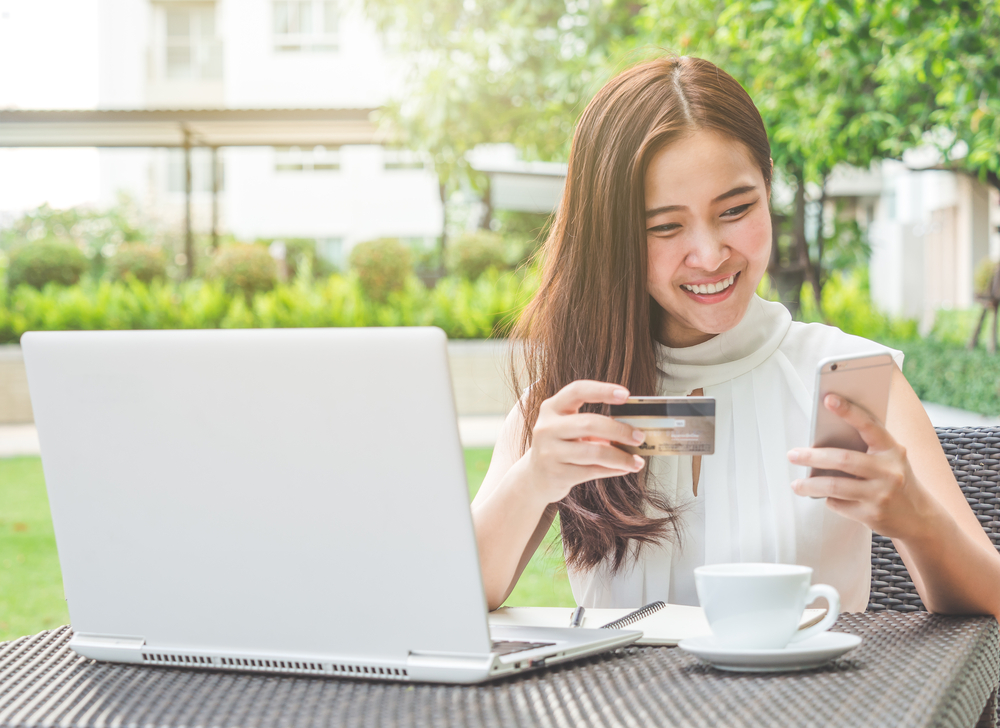 You don't have to look far and wide for ways of increasing your credit score if you pay your bills on time. As such, planning your payments is an essential part of becoming a credit card holder.
Most credit card issuers now provide a wide range of payment options to make the process easier for you and provide you with the flexibility you need based on your financial habits.
Traditional Credit Card Payment Methods
Given how competitive the market for financial services is, credit card issuers try to stand out by catering to different types of clients, including those who prefer traditional payment options. If you're wondering how to pay for credit card bills via traditional channels, here are your top three options.
1. Over-the-counter bank payment
Settling your unpaid credit card bills in the branch is a good option if you're planning to run some errands in-between breaks. You can pay either in cash or check, although the latter may take some extra time to process due to the required verifications.
2. Over-the-counter payment at payment centers
Paying over-the-counter at any official payment center can be a convenient way of settling your credit card bill, especially since you can find some of these establishments within your neighborhood.
You can also find these services in malls, pawnshops, and convenience stores. However, this method is limited to cash transactions only since the payment partner doesn't accept checks and won't have access to your banking account or information.
3. Auto-debit arrangement (ADA)
If you find yourself too busy to deal with your credit card dues, you can ask your provider to set up an ADA. This will automatically take funds from your deposit account and transfer them to your credit card, which will serve as payment for every billing cycle.
You can choose to have either the Total Amount Due or Minimum Amount Due automatically debited from your account each month. The prior option settles your entire outstanding balance immediately, so you don't have to worry about your debt accumulating interest. The Minimum Amount Due option, however, settles only the amount you have to pay for that billing cycle to help you budget your spending.
How to Pay for Credit Card Online
With the rise of digital banking, you can now pay your credit card bills online. This method saves you from the hassle of having to physically go to a payment center or branch and wait in line.
You have two options when paying your credit card bills online.
1. Website
When you pay through your bank's official website, you are transferring money from your savings account to your credit card account. The service is available 24/7, allowing you to skip long queues at payment centers and banks. As such, it has become one of the most preferred methods of payment nowadays.
2. Mobile App
This method is similar to online banking, except that you use your card issuer's mobile app.
These apps enable you to pay your credit card dues at any time and place most convenient for you. The payment procedure and posting speed are similar to when you use the bank's website.
Make sure to use your bank's verified mobile app to avoid phishing scams and other mobile banking cyberattacks.
How to Pay Credit Card Bills Using GCash
Many Filipinos prefer using GCash for online transactions since it allows them to transfer money to banks and other digital wallets, as well as pay bills. That means you can use GCash to pay your credit card bills. Simply follow the steps below.
Open your GCash app.
Link your desired bank account or card to your GCash mobile wallet and top up. You can also use an authorized GCash cash-in center such as Globe Stores, 7-Eleven, and SM Business Centers to top up your account. Depending on your GCash account status, your GCash's maximum holding amount may vary with other users.
Tap the "Pay Bills" icon on the GCash app.
Look for your credit card biller, then input all the necessary information required on the page.
Enter the exact amount you want to pay.
Confirm your payment and check your email or phone for your digital receipt.
How to Pay Credit Card Bills Using ShopeePay
If you weren't aware, the e-commerce platform Shopee has launched its very own mobile wallet called ShopeePay. ShopeePay functions just like other electronic wallets, meaning you can draw funds from your e-wallet to pay your credit card bill. Here's how to do it.
Download the Shopee app and register for an account.
Verify your account by submitting any of the accepted identification cards required by Shopee.
Once verified, click on the "Me" tab on the bottom right and select ShopeePay.
Select "Cash In" and choose the source account you would like to use for topping up your wallet. Your source account may include your debit cards and linked bank accounts. Alternatively, you can choose to load your e-wallet via payment centers and over-the-counter transactions.
Enter the necessary details to link your account or verify your cash-in attempt through a kiosk.
Click on the "Loads, Bills, & Travel" icon on your Shopee app dashboard.
Select your credit card biller.
Input your card number and the total amount you want to settle. You may also use vouchers and set a monthly reminder to get discounts on your bill.
Review all the details and select "Pay Now".
Easy Credit Card Payments with Online Solutions
Part of being a responsible credit card holder is learning how to manage and optimize your finances well. This includes building the habit of paying your credit card dues on time. Otherwise, you can risk facing heavy fees and penalties that can significantly hurt your finances and affect your credit score.
Fortunately, most credit card issuers provide different types of flexible payment schemes that best suit your financial needs and goals. In particular, RCBC offers credit cards with no annual fee in the Philippines, so you can enjoy better financial flexibility without worrying about incurring additional credit card expenses.