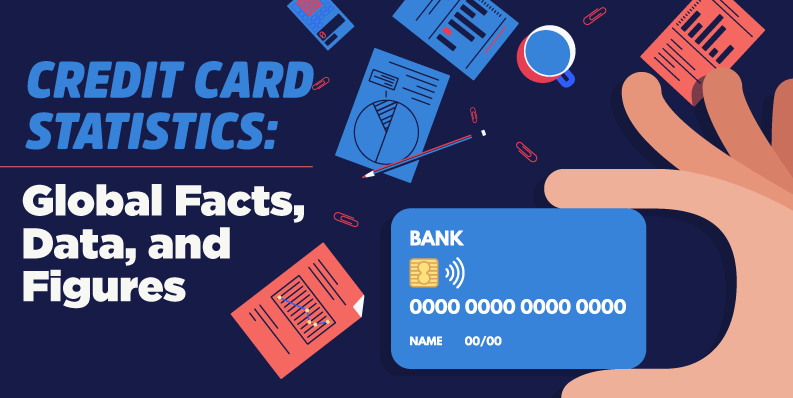 The advantages of having a credit card and using it responsibly can be rewarding in so many ways. It gives you the extra purchasing power to spend on your needs and occasional indulgences. Additionally, spending with credit cards is accessible by design. Whether you're shopping or availing of auto-charge subscriptions, all it takes is a swipe or a tap.
Apart from its convenience, credit card owners also enjoy pricing benefits, installment payment plans, and reward programs. Because of its many perks, 80% of consumers prefer spending with their credit cards over cash.
Whether you're applying for your first credit card or you already have one, this infographic will help you learn about global credit card facts, shedding light on why consumers prefer it over other modes of payment.

It's time to dig deeper into what these figures entail. Here are the details behind 26 of the most useful credit card statistics.
General Credit Card Facts
Credit cards are a staple in the global payment ecosystem. Their prominence has especially been growing for the past few years, as proven by the following statistics:
Credit Card Ownership
Credit card ownership and usage are relatively high worldwide. These appear to be influenced by consumer age demographics. Attitude towards credit cards is generally optimistic, with most credit card owners coming from Canada. Similarly, the rising trend is expected to affect the Philippines with a CAGR of 12.3% in the following years.
An analysis of these statistics shows why you should get your first credit card.
Credit cards are rewarding, especially for Gen X. The way it allows cardholders to purchase conveniently, as well as its multiple rewards, makes it an enticing payment option.
Credit Card Debt
The increasing ownership of credit cards directly correlates to credit card debt, or the accumulated outstanding balances that borrowers postpone from month to month. This section will explore which countries have the most credit card debt, the global outstanding credit card balance, the percentage of credit card users worldwide who pay their balance on time, and the average debt per person.
These statistics show how important it is to pay your balances on time, as it can accumulate to such a hefty and overwhelming sum.
Credit Card Fraud
Credit card fraud is a kind of identity theft that happens when someone uses your credit card or account information to make illegal or unauthorized transactions. Fraud can take place with a stolen, misplaced, or counterfeit credit card. Due to the increasing accessibility of ecommerce that offers credit card payments, credit card fraud has become more prevalent.
The rapid increase in fraud cases highlights the significance of choosing a secure and reputable credit card provider that allows you to monitor your transactions. Moreover, a bank that offers biometrics through PIN or two-factor authentication and utilizes identity or asset management tools can further protect you from being a victim of credit card fraud.
Making Sense of the Numbers
These figures illustrate the convenience that comes with credit cards. However, always be mindful of the debt you can incur and the possibility of fraud. Communicate and consult with your bank if you have any worries about credit card usage, debt, or fraud before applying for one.
RCBC Bankard can guide you in the entire credit card application process and provide you with a wide array of credit card options. They also offer a complete online banking experience with enhanced security through EMV Chip technology, Mastercard E-Commerce insurance, and OTP verification. Open yourself to the many perks from RCBC Bankard credit cards. Apply now!