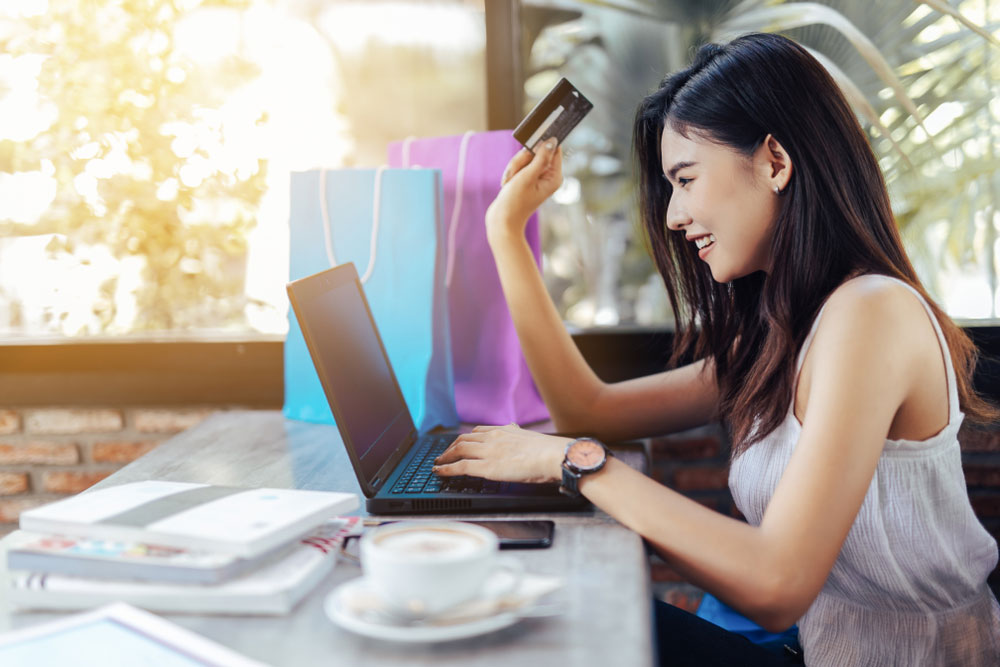 Thanks to credit cards, you can do your shopping without venturing out of the house. The convenience of this payment option cannot be overstated. For starters, you are spared from the commute. While we are amid a global pandemic where social distancing is a must, that's quite an excellent bargain.
You can find almost everything you need online—from groceries and medicines to clothing and whatever you fancy from digital shops. With online shopping, the world's your oyster, and the sky's the limit.
However, it's worth noting that your safety could be compromised with online shopping—by safety, we mean the confidentiality of your data, which hackers could tap for a quick profit. To prevent this from happening, here are safe online shopping tips.
1. Shop with trusted, credible online stores
This is perhaps the most practical advice you could get on the safest way to buy online, whether you're a seasoned online shopper or a newbie using their first credit card.
Bookmark your preferred shopping sites for quick and safe access. Remember that even a one-letter mistake when typing a URL on your browser could lead you to a doppelganger site where hackers might be waiting.
2. Be cautious of new and interesting sellers
Sometimes, you see novelty products being offered in some online shops. Maybe you've never purchased from them before, or you don't know anyone who has. You do not have to deprive yourself if you really want whatever goodies they have in your hands.
Here, research is your best friend. Know if the store has a brick-and-mortar shop. If they do, you know where to follow up should your shopping experience turn into a nightmare. Read testimonials from previous customers, too.
3. Set a strong password
There are a few rules when coming up with a strong password. You can't use details that are easily attributable to you or your loved ones, such as names and birthdays. You must avoid dictionary words, too.
For utmost safety, use a password with alphanumeric characters. Choose a combination of small and big letters, and include special symbols, too. The more irrelevant the password is to your life, the better.
4. Avoid shopping using a public Wi-Fi
While you're at a coffee shop, connected to the free Wi-Fi, waiting for your date or your next meeting, you might get tempted to shop online out of boredom—but don't! Consider all public Wi-Fis as unsecured connections; you never know who's lurking behind.
The worst thing that can happen is you input your details like your full name and credit card information, and that info goes straight to the sketchy man sitting on the table next to you who has hacked the Wi-Fi system.
5. Beware of too-good-to-be-true deals
When you filed your credit card application, chances are, you were looking into maximizing credit card and online shopping deals. While it's true that using a credit card to shop gives you access to exclusive deals and promos, you can't be complacent. Some of these deals and promos might be too good to be true.
For example, you might be tempted to purchase from a relatively obscure shop offering the cheapest products you could find online for a particular item. They might be doing so because their real product is your credit card details which they sell to hackers.
6. Use credit card, not debit
The logic is simple: your credit card has no real money in it; your debit card has. If by any chance, your debit card details get compromised, hackers will quickly fleece your funds. Sure, you can always have the case investigated by your bank service provider, but that's often a protracted and stressful process. Don't risk it.
7. Do not share your OTP
One way to spot a reliable online site is if they allow one-time password (OTP) generation for shoppers whose credit card details they have in their system. Whenever you make a purchase, you receive an OTP via your registered mobile number, which you need to input before payment. Never share this OTP with anyone.
8. Be partial to the lock
There's a secret to finding safe online shops: you look for the lock. By that, we mean a secure sockets layer (SSL), which is a kind of encryption. It appears on the left side of the URL in the address bar of your browser. Also, you'll know if a site is more secure than others if the URL starts with HTTPS instead of just HTTP.
9. Stay away from online shops requiring more information than necessary
This is an absolute red flag. Most online shops will require no more than an email, phone number, and credit card details if that's your preferred payment method. If you're asked about your social security number or other personal information not related to the purchase, run away.
10. Clean up from time to time
Tired of those targeted and pesky ads? Clean your cache and browsing history regularly. This also lessens your risk of being monitored by hackers waiting for you to make a mistake while shopping online.
Shop Online the Safest Way Possible
Pandemic or no pandemic, online shopping will remain popular. But while enjoying online shopping to the fullest, do not forget about safety, too.
Make sure to adhere to the online shopping tips mentioned here, and tell your friends and family about them so you can all shop digitally with peace of mind. Do so with a credit card that has your convenience and safety as a priority. Apply for a credit card at RCBC Bankard here!