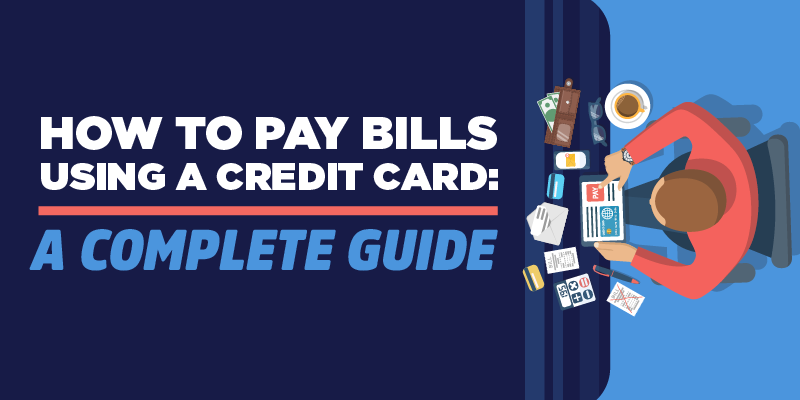 Credit cards are a convenient financial tool, allowing you to settle payments with just one swipe. This convenience applies to paying your monthly utilities, as well.
With your credit card, you can skip the hassle of lining up at malls and remittance centers to settle your rent, water, electricity, and other utility bills. All you need to do is go online and have your credit card on hand. Here's a complete guide on how to pay bills using credit cards for a hassle-free payment experience.

Benefits of Paying Monthly Bills Using a Credit Card
More and more consumers are using their credit cards as their preferred mode of payment when settling utility bills and other monthly expenses. Here's why you should consider the same.
Pay anytime, anywhere using your phone.
Busybodies and travel enthusiasts may find it hard to pay their utilities, especially since they may not have time, be out of town, or unable to go to their service provider's office. Luckily, online banking has made it easier to pay your bills, allowing you to settle your outstanding balances in just a few clicks.

All you need to do is log into your account on the service provider's website, provide the necessary information, and proceed with the payment using your credit card. With this, you won't have to take the day off just to wait in line and pay your bills.


Get your payments posted quickly.
Writing out checks and using them as payment may take a few days to clear. The check must be deposited and cleared before the payment is processed. This may pose a problem, especially if you paid on the day of the deadline and the payment posts days after.

Paying with your RCBC online credit card quickens the payment process and assures real-time payment posting. This way, you can enjoy utility services and other subscriptions without worrying about your account being disconnected.


Monitor your bill payments more closely.
Many think that owning a credit card can lead to overspending and going into debt. However, this financial tool is great for budgeting or making payments when used responsibly.

Your card's online account management tools can help you keep track of your spending. With this, you can see where your money is going, helping you set a monthly budget and cut down unnecessary costs.


Improve your credit rating.
Sometimes, you may need to avail of a loan for major purchases like housing or car investments. But, a poor credit rating may lead to a rejected loan application. Besides a rejection, it's possible you may get approved for a lower amount or charged with high interest rates.

Your credit card is one of the most viable ways for you to raise your credit score without the risk of overspending. However, you must not leave any unpaid credit card bills and be an early bird with your payments.


Reap credit card rewards faster.
Most credit cards offer a variety of rewards for their clients. For example, purchasing with your credit card entitles you to receive discounts or spread the bill in installments with no interest rate. Paying your bills with a credit card lets you earn points for things you regularly use.

Once you learn how to pay bills using your credit card, you can enjoy a range of rewards, including cashback, rebates, and travel essentials. You can get more bang for your buck with discounts and rewards on top of hassle-free bill payments.


Avoid late payment fees.
Apart from receiving rewards and discounts, paying bills using your credit card can help you avoid paying more on late payment fees. Most credit card providers in the Philippines offer useful features, including the auto-charge program. This feature automatically deducts your monthly credit card bill from your deposit account, so you no longer have to pay the amount manually.

Keeping track of multiple recurring expenses and utility bills now becomes a breeze. If you're forgetful or have too many things on your plate, you can use this feature to help you stay on top of all your household expenses. Your credit card's auto-payment facility helps you avoid late payments, lessening the chances of paying costly penalty fees.


Stay safe with an added layer of consumer protection.
Withdrawing or writing a check for a huge amount of cash comes with safety and security concerns. It can be dangerous carrying a check with you since it works like cash, so there's the possibility of losing money to bad actors. With credit cards, you can prevent this from happening.

Most credit card issuers offer additional security benefits to credit card users, including purchase protection, zero or minimal fraud liability, guaranteed returns, and the like. That way, you can pay your bills safely at home via the internet.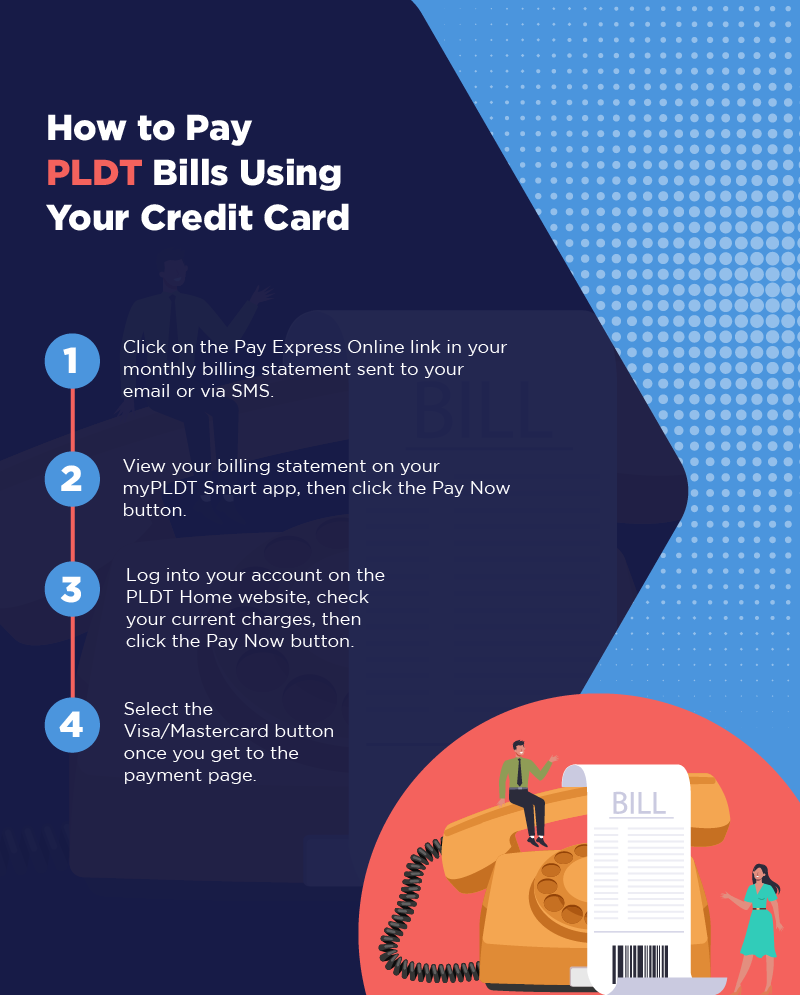 How to Pay PLDT Internet Bills Using Your Credit Card
Having your internet connection cut off disrupts your daily activities and productivity, especially if you're working or conducting business from home. Ensure you're always connected by paying PLDT bills using your credit card without delays.
Click on the Pay Express Online link in the monthly billing statement sent to your email or via SMS.
View your billing statement on your myPLDT Smart app, then click the Pay Now button.
Log into your account on the PLDT Home website, check your current charges, then click the Pay Now button.
Select the Visa/Mastercard button once you get to the payment page.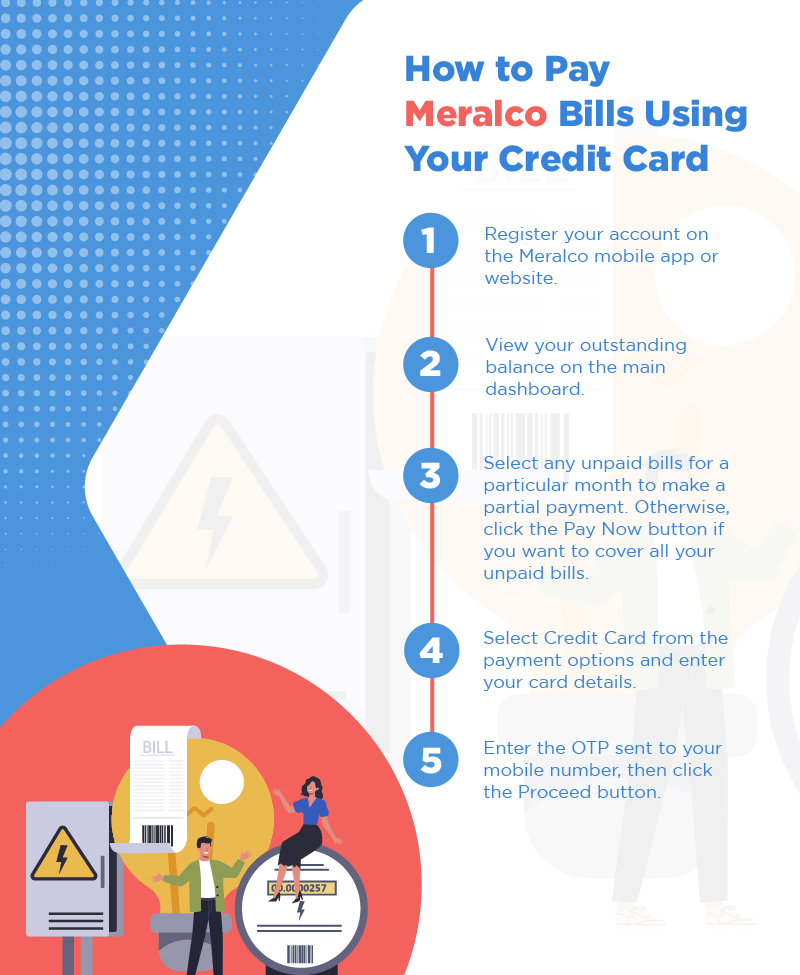 How to Pay Meralco Bills Using Your Credit Card
Brownouts are a hassle. Imagine rushing to meet a deadline, then your computer goes off. It's also nearly impossible to do anything in the dark, so it's difficult to do household chores like cooking and cleaning.
Here's how you can keep the power on by being on time with paying the Meralco bill using your credit card.
Register your account on the Meralco mobile app or website.
View your outstanding balance on the main dashboard.
If you have an outstanding bill from previous months, select the bill corresponding to a particular month. If you want to fully pay all your bills, click the Pay Now button.
Select Credit Card from the payment options and enter your card details.
Enter the OTP sent to your mobile number, then click the Proceed button.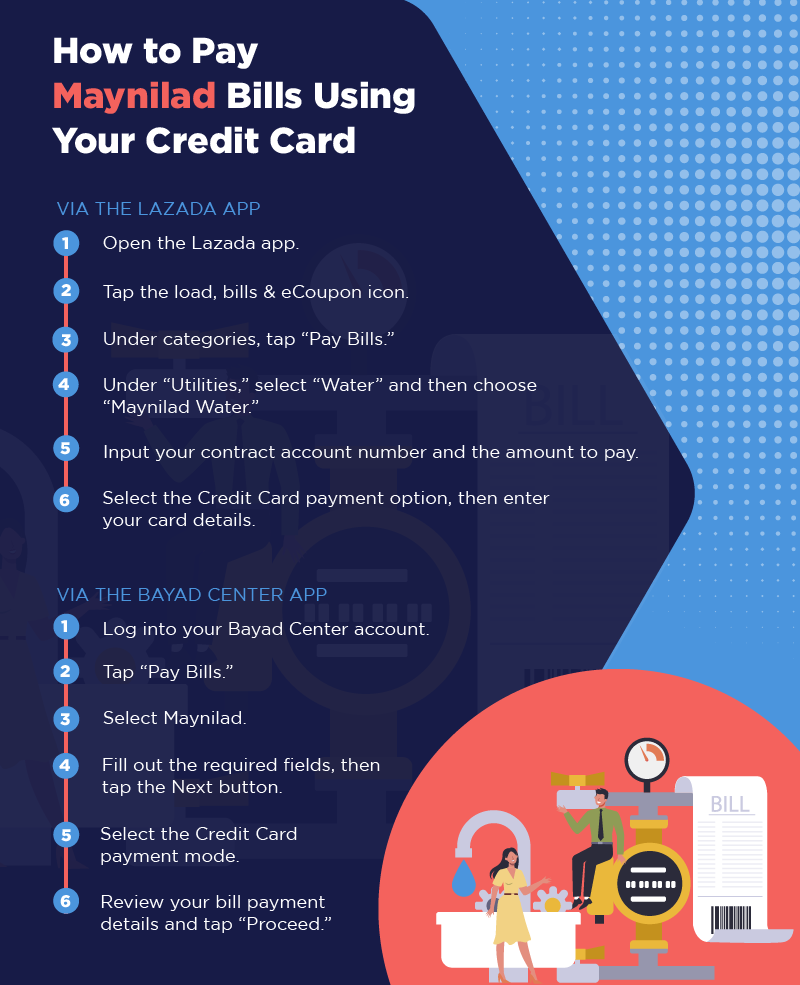 How to Pay Maynilad Bills Using Your Credit Card
Hygiene plays a crucial role in keeping you and your family healthy. This can also help prevent admission to the hospital for transmissible diseases by a simple wash of the hands. Check out these steps you should do to have working waterlines all the time by paying Maynilad bills using your credit card. Maynilad's partner mobile apps include Lazada and Bayad Center.
Via the Lazada app
Open the Lazada app.
Tap the load, bills & eCoupon icon.
Under categories, tap "Pay Bills."
Under "Utilities," select "Water" and then choose "Maynilad Water."
Input your contract account number and the amount to pay.
Select the Credit Card payment option and enter your card details.
Via the Bayad Center app
Log into your Bayad Center account.
Tap "Pay Bills."
Select Maynilad.
Fill out the required fields, then tap the Next button.
Select the Credit Card payment mode.
Review your bill payment details and tap "Proceed."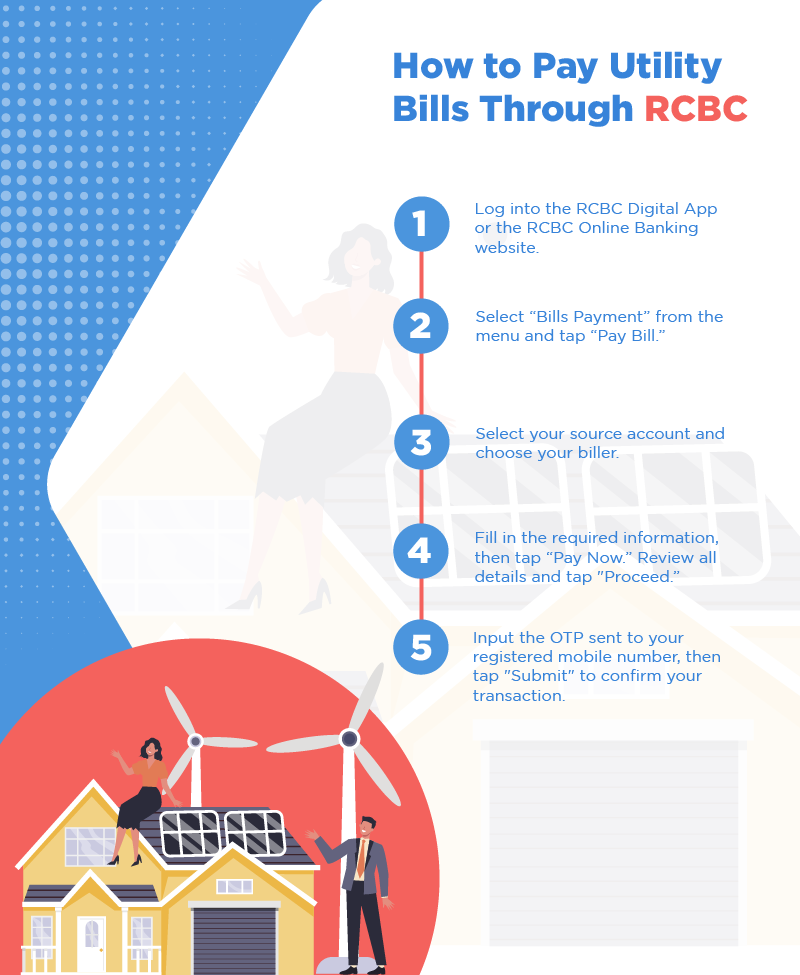 How to Pay Utility Bills Through RCBC
Long lines and payment processing times can make anyone feel unmotivated to settle their accounts. Experience a hassle-free way of paying your utilities with RCBC's Online Banking. Here's how:
Log into the RCBC Digital App or the RCBC Online Banking website.
Select "Bills Payment" from the menu, then tap "Pay Bill."
Select your source account and choose your biller.
Fill in the required information, then tap "Pay Now." Review all details and tap "Proceed."
Input the OTP sent to your registered mobile number, then tap "Submit" to confirm your transaction.
Experience Hassle-Free Bill Payments with Credit Cards
Credit cards are a valuable tool in finance management. They don't just eliminate the hassle of paying over the counter but also let you enjoy other perks like rewards, extra security, and more.
With that, paying your monthly bills with credit cards like RCBC Bankard Fast BillsPay can make your life easier. From electric and water to phone and internet bills, you can charge them and more to your RCBC credit card.
You only need to apply for an RCBC credit card to enjoy a convenient life!