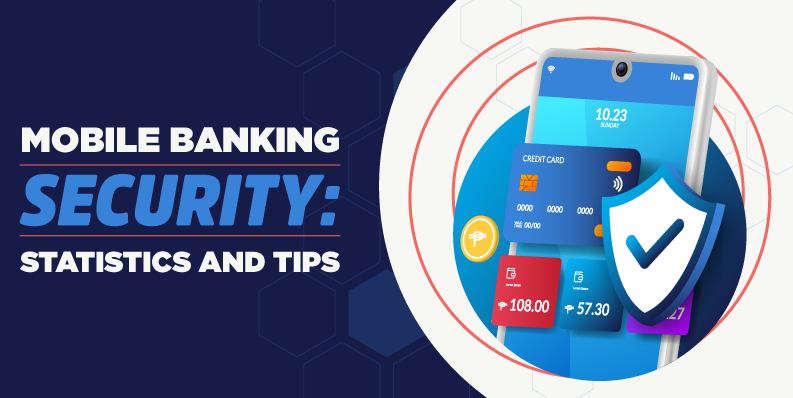 With the rise in the popularity of mobile banking, you might be asking, is it safe? Yes, mobile banking is safe as long as you choose a bank that employs enhanced security measures for your in-branch and digital banking needs. You may also want to check its accompanying mobile banking app before using it to make sure it can keep your finances and account safe.
Let's look at the figures below to determine how much mobile banking has grown within the last few years, especially during the coronavirus pandemic.

Mobile Banking: Adoption and Usage
Mobile banking is fast becoming the public's preferred option to conduct all their banking activities. Here are some statistics and facts about its adoption and usage.
● As of May 2021, mobile banking adoption has grown to 95% among Gen Z, 91% among millennials, 85% among Gen X, 60% among baby boomers, and 27% among seniors.
As these statistics show, mobile banking has seen a surge in usage across all age demographics. Mobile banking is nearly universal among millennials and Gen Zs who have smartphones. As for seniors over the age of 75, those who own a smartphone choose to use their banks' mobile-banking apps.
Experts believe that mobile banking's acceleration is due to the pandemic. However, it can also be attributed to its streamlined and convenient process.
● 31% of surveyed respondents stated they would continue to use more online and mobile banking in the future.
With smartphones and other technological advances at the forefront, digital or mobile banking has become the new normal. The pandemic is still prevalent worldwide, so people continue to do everything remotely, including banking. However, the COVID-19 virus also became the catalyst in people choosing to keep banking online long after the global pandemic has gone.
● 45% use mobile wallets, while 16% use paper-based currency less now compared to before the pandemic.
It is becoming more apparent that the pandemic changed how people lived and conducted normal activities, with 46% of baby boomers, 39% of Gen X, and 35% of millennials discovering new channels like online and mobile to do their banking.
● 45% of banked respondents said they have changed how they interact with banks since the coronavirus outbreak.
Amidst this pandemic, people have primarily used food delivery services and take-out options to secure food. Online shopping has also supplemented the need to purchase essentials. Consumers browse and buy online and have their items delivered right to their doorsteps using cashless payment methods such as mobile banking apps.
● As of Fall 2020, 44% of retail banking consumers stated they prefer using their primary institution's mobile app regularly, and 3 out of 4 said they use mobile banking apps at least once a month.
Digital banking was on the rise long before the pandemic. However, mobile banking saw a significant surge during the global crisis, with most banks optimizing or creating their mobile banking apps for easy access.
Vulnerability to Data Breach
Mobile banking has become a more convenient way of banking amidst the pandemic. However, banks are prime targets for cybercriminals and hackers. Here are some statistics illustrating mobile banking's vulnerability to data breaches.
● According to a survey, 34% of users took no security precautions to protect their smartphones.
Many smartphone users don't lock their phones or log out of their mobile banking accounts after using, making their device more vulnerable to cyberattacks.
● Reports from 2021 suggest 43% of U.S. consumers experienced some form of financial identity theft or application fraud in their name or account takeover in the past two years.
While the adoption and use of mobile banking are excellent ways to engage with customers regularly, they are still concerned about threats to their information security. Their main worries are the possibilities of illegally using personal and account information, identity theft, unlawful transfer of funds, and writing fraudulent checks from customers' accounts.
Common Mobile Banking Cyberattacks
Cybercriminals employ a myriad of tactics to steal your personal and banking information. It's essential to know what they are and how they conduct these cybercrimes. Here are some common mobile banking cyber-attacks to consider.
● Fake banking apps
These are designed to resemble real apps of recognizable banks to acquire login credentials. The FBI has stated that fake banking apps are "one of the fastest-growing sectors of smartphone-based fraud."
In a statement, the agency urged mobile banking customers to be wary of downloading banking apps, as hackers spread fake apps containing malicious software, making devices susceptible to cyberattacks.
● Fake website windows
This cyberattack displays a window or image that mimics the user's bank website and asks them to encode their username and password.
One important thing to consider when conducting transactions is HTTPS. When a URL has this, it means the site offers secure connections, preventing third parties from seeing the information you entered on it. Additionally, do a quick research before entering credentials into any website.
● App-based banking Trojans
These conceal dormant malicious programs and activates when a user launches a banking app. The Trojan virus creates a pop-up overlay that mimics a bank's login page. This type of malware can be downloaded in several ways, like SMS or text containing a suspicious hyperlink.
● Keylogger Trojans
Keylogger trojans or "keyboard spying" programs monitor the activities of users. Once a customer logs into their bank account, the Trojan virus captures keystrokes, giving cybercriminals access to information like login, usernames, and passwords.
A Trojan virus is programmed to gather intel and pinpoint banks it can exploit. If the app or website doesn't have proper security measures, hackers can easily access a customer's data, allowing them to commit fraud.
● Spam and phishing emails
Phishing emails attempt to manipulate the recipient into revealing their personal information. They are formatted like emails you usually receive from your bank but are often tagged as spam. Smishing is a kind of phishing message but uses baits through text messages.
In both cases, the criminal, pretending to be someone from the bank, will coerce the victim to give their username and password in fear of having their accounts suspended.
Mobile Banking Security Tips
Now that you know the several types of cyberattacks, here's how you can protect your information and ensure a safe banking experience.
● Never use public or unknown Wi-Fi internet connections.
Someone with fundamental programming knowledge can easily connect to your device and divulge sensitive information. Public Wi-Fi is not secure and lacks security. When accessing private personal data, it's best to use your phone's data network or secure Wi-Fi connections at home.
● Choose a trustworthy bank for your financial activities.
Credible banks with proven track records are more reliable in terms of keeping private and sensitive information secure. The chances of a security breach are lower compared to unrecognized names.
● Use your bank's verified app, which you can check through its official website.
Banks should have readily available information about their apps and features. Check your bank's website or social media accounts to see if they have a link to their official app there. Then, make sure to download from your phone's built-in app store; never download from an open forum or third-party site as they tend to feature fake apps.
● Choose a bank that uses two-factor or multi-factor authentication on its app.
These measures will require you to input both your password and a PIN sent to your mobile number to log in. Two-factor authentication significantly increases the security of your account. However, it is not 100% guaranteed security. You still need to be careful with your belongings as people can access your phone or intercept the SMS containing the verification code.
● Always remember to log out of your mobile banking app after every use.
Simply locking your phone and logging out of your mobile banking account will go a long way to prevent unwarranted access to your accounts and banking information. Additionally, learn how to secure sensitive data stored in your smartphone. Consider installing anti-malware software if available.
Practice Mobile Banking Safety
Online and mobile banking have become deeply ingrained in people's daily lives, making it essential for users to take the initiative to protect themselves against cyberattacks. Knowing their vulnerabilities and actively protecting your information will ensure a safer banking experience.
If you're looking for a safe and reputable establishment to handle your banking activities, check out the RCBC Online Banking app.