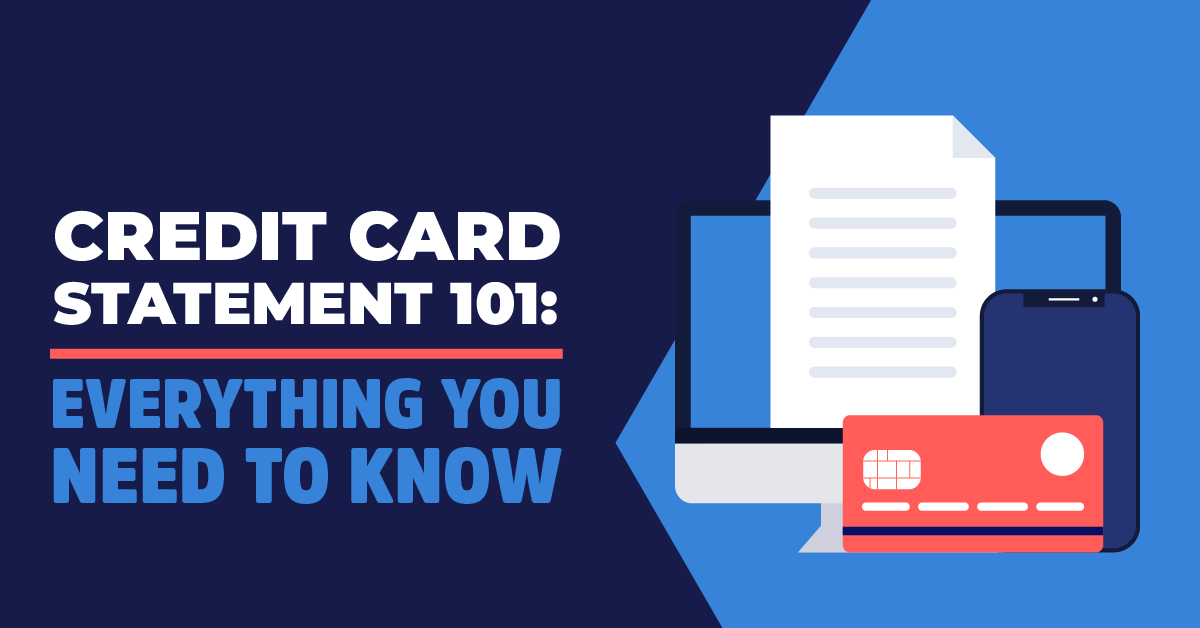 It's true that owning a credit card involves many responsibilities. As a general rule, you should not spend over your credit limit or delay paying your bills every month. Unfortunately, some credit cardholders are guilty of skipping the regular checking of the monthly billing statement.

When you're new to the world of credit cards, understanding your statement of account can be confusing. The long list of numbers and signs can intimidate you.
But don't worry, we'll tackle the fundamentals of credit card statements—what to expect or look out for, how to read them, and the different methods of accessing them.

What is a credit card statement?
Picture this: you applied for and successfully got approved for a credit card from your local bank. With your card at hand, the world has suddenly turned into your oyster. Before you know it, a month has passed, and you receive a letter from your bank.
This letter is most likely your credit card statement. Every billing period differs from bank to bank but typically spans 20 to 45 days. The credit card statement summarizes when, where, or for what you've used your credit card.
As such, you can find information about what you purchased using your credit card, how much each item cost, and how much interest you incurred. The statement will also indicate the total amount you'll have to pay the bank.
Why do I need to read my credit card statement?
Assessing and thoroughly reviewing your credit card statements is essential for anyone who uses a credit card. Your monthly bills let you monitor how much and how often you make financial transactions and other purchases.
Checking your monthly transactions also allows you to see any unauthorized purchases so that you can report them as soon as possible.
How to Read a Credit Card Statement
A credit card statement comprises several parts. The format may differ depending on your bank, but a statement of account typically contains the following information.
Account Summary
The first thing you'll see is your account summary, located at the top left of the document. As its name suggests, the account summary indicates your payments, credits, fees, interest charges, and credit card balance. Any charges from the previous statement will also be in this section.
Transactions
A credit card statement lists and itemizes your purchases throughout the billing period, from the earliest to the most recent ones. This part of your monthly statement also indicates the transaction dates and amounts.

RCBC uses a Spend Analyzer feature that segments expenses per category like medical, utilities, dining, supermarket, etc. This way, you can see at a glance where the bulk of your monthly spending goes.

It is also in this section where you can carefully check your purchases for suspicious activity or transactions. If there are purchases made without your knowledge, you can dispute a credit card charge with your card issuer.
Interest Charges
Interest charges reflect the interest you pay when you purchase something with your credit card. You can see this information toward the end of your statement, separate from the monthly bill. It's common to find different interest rates for the various balances on your card.
Total Outstanding Balance
A statement's outstanding balance refers to the amount you owe the bank from previous billing cycles. This unpaid amount compounds with the amount due for the current cycle. Your total outstanding balance takes into account all your purchases, advances, interest charges, and fees to date.
Minimum Amount Due
The minimum amount due is the lowest you can pay to your bank to avoid late payment fees and other penalties. You'll typically find this section on the physical copy of your credit card statement and online via mobile banking apps.

Your credit card company calculates a percentage of your outstanding bill to determine your minimum amount. The higher your monthly bill, the higher the minimum amount is.
Payment Due DateAs its name suggests, this section specifies when the bank should receive your payment.
You are responsible for paying on or before the due date to avoid fees for late payments. Being diligent and consistent with timely payments also helps improve your credit score and increase your credit limit.
Rewards Summary
Your credit card might offer a rewards program. If so, the summary lets you see the points you've earned for the current billing cycle and the total rewards accumulated throughout your credit card's lifespan.
How to View Your Credit Card Statement
Some credit card companies mail monthly statements, but you can also access them through various online channels as financial institutions adapt to the digital age.
Email
Receiving credit card statements via email lowers the risk of receiving them late since the method is digital. Plus, virtual account statements provide added convenience and lessen paper use. Typically, you'll receive the email several weeks before your payment due date.
Online
You can also access your credit card bill through your bank's website or mobile app when you enroll your account online. It's a convenient way to monitor your transactions on your device in real-time.
Mail
Mailers are the traditional mode of credit card statement delivery. Your credit card issuer might hire third-party services to ensure you get a physical copy of your monthly bill. You can request for it to be delivered to your address if you prefer to use it for personal record keeping.
Responsible Credit Card Ownership
Owning a credit card is a big responsibility. Credit card statements are the banks' way to ensure you can stay well-informed of your financial records and expenses and make timely payments for consistent good credit standing.
RCBC lets you enroll your credit card in an Auto-Debit Arrangement (ADA) program so you don't forget your monthly payments. This feature enables you to make partial or full credit card payments from your monthly RCBC deposit account. That puts convenience at the core of your credit card experience.
Apply for an RCBC online credit card today!