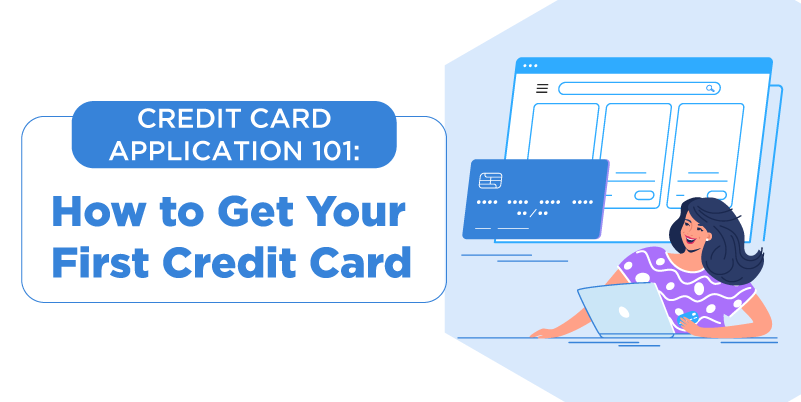 The perks of owning a credit card and using it responsibly can be rewarding on so many levels. With a credit card, you have extra money to spend on your needs and occasional indulgences. Whether it's a minor or major purchase, you can use this plastic money as a convenient payment method.
Another credit card perk is that instead of shelling out cash in one go, you can charge the entire amount to your card and then make installment payments later. Credit card owners also get to enjoy easy online shopping and auto charging transactions.
For these benefits, more and more people understandably want to own a credit card. The good news is getting a credit card is easier and faster now more than ever. Many credit card companies even have an online application system—the next thing you know, your credit card is right on its way to you.
If it's your first time shopping for a credit card, you may find yourself wondering how it works—or how to make it work for you. Don't worry; we've got you covered! Our infographic will give you an overview of the credit card application process and surefire tips on how to get your first credit card successfully.

The entire experience of getting a credit card may be accompanied by questions or uncertainties, especially if you're a first-timer. You might worry about whether credit card companies will approve or deny your application. Needless to say, you're hoping for a favorable result, or perhaps the thought of which credit card provider to choose also crossed your mind.
To better grasp the ins and outs of a credit card application, you must first understand what a credit card is.
What Is a Credit Card?
A credit card is a financial product provided by banks and other financial institutions to individuals who meet their criteria on age, income, and other relevant factors. Since a credit card can be used to shop, pay bills, and even acquire emergency funds, it gives you financial security for personal necessities.
Advantages of Owning a Credit Card
Being a credit card holder lets you enjoy a host of benefits, but here are the most significant ones.
Increased purchasing power
Your credit card is just like cash with a value that you can use to pay for essential items and services like food, gas, medicine, clothing, utilities, and more. As long as you are diligent in paying your monthly bills, you can keep using your credit card.
Convenience
One of the most notable features of a credit card is the ease of using it as a payment method. Not only is it accepted in nearly all business establishments, but it also allows you to keep tabs on where your money goes. This is possible through the statement of account you receive each month, with complete details about every purchase you've charged on your card.
Credit card rewards
Each time you purchase something with your credit card, you also earn rewards or points. Once you've accumulated enough rewards, you can exchange them for discounted products offered by partner merchants or earn cash rebates. Travel credit cards even give away miles or flights for free if you qualify for their loyalty reward programs.
Capability to build your credit history
Your credit card limit and payment history form part of your credit rating or score. By maintaining a good credit standing, you build a high level of trust with creditors and increase your chances of approvals, either for a home, car, or business loan.
Online purchases
Whether you're shopping from a website, an e-commerce store, a virtual marketplace, or a merchant—both local and foreign—you can use your credit card to facilitate the purchase.
Protection against fraudulent activities
A credit card offers security against unauthorized transactions, so you don't have to bear the burden of the fraudulent act. Just make sure you are prompt in reporting that you've lost your card or someone may have uncovered your credit card information illegally.
Credit Card Eligibility Requirements
These are the factors that can initially determine if you're qualified for a credit card:
Age: To enter into a contract with a credit card company as a principal cardholder, you must be of legal age—i.e., between 21 and 65 years old. If you want to avail of a supplementary card, you can do so for family members aged 13 to 65.
Contact number: The credit card issuer will ask you basic questions as part of the background credit check. They must be able to contact you at your mobile number and office or business landline.
Income: You must earn a gross annual income of at least P250,000, the minimum requirement for basic credit cardholders.
Citizenship: You must be a Filipino citizen to enter into a contract with a credit card company. If you are a foreigner, the company may allow you to open a credit card account if you have been living in the Philippines for at least two years.
Fair warning: Meeting these qualifications doesn't necessarily guarantee approval, as the bank may use other formulas to assess your application.

Credit Card Application Requirements
Upon meeting the credit card company's eligibility requirements, the next thing for you to do is secure the following documents:
Completed application form: Here, you'll indicate your preferred credit card, personal information, contact details, employment status, financial information, and other relevant data. You can download the form and have it printed or accomplish it digitally.
Proof of identity: You must submit a copy of one valid government-issued ID that bears your photo, such as UMID, passport, or driver's license.
Proof of income: The credit card company will assess your financial capabilities by reviewing documents that contain details about your income, such as payslips, COE, ITR, and bank statements for your payroll account. If you're a business owner, you'll also be requested to submit your company's most recent audited financial statement.
Credit Card Application: Online versus Offline Process

There are two ways you can apply for a credit card: online and offline.
The online method is a more convenient alternative since you can do it over the internet. Here are the steps for a credit card online application:
Go to the official website of the credit card's issuing bank, choose the type of credit card you prefer, and fill out the online application form.
Check if you've provided complete and accurate information, as this will help speed up the bank's processing of your application.
Attach photos of your supporting documents to the online application.
Once the uploading is finished, submit the application and wait for confirmation that they've received your application.
If you're applying on-site, best to be practical by choosing the nearest branch of your preferred bank. Ideally, you should already have accomplished the application form beforehand, so it will only be a matter of handing the form to a customer service representative (CSR), along with your documents.
Otherwise, you may approach the CSR and request an application form. While you're at the bank, the CSR may also interview you regarding your eligibility. Finally, the CSR may advise you on the average time of processing the application, which may take 1 to 2 weeks.
You may also apply in establishments where there are credit card application booths such as malls, supermarkets, and office buildings.
Tips for First-Time Credit Card Users
A credit card has the potential to bring maximum value, provided you keep these reminders in mind.
Determine the credit card type that matches your needs: This entails looking into the ideal credit limit based on your budget, as you don't want to use your card beyond your means. Also, check if the features, rewards, and perks offered by the company match your lifestyle or financial goals.
Read and understand the terms and conditions: Know what you're getting into when you open a credit card account. Pay attention to interest rates, penalties, billing cycles, and other information. The last thing you want is to fail to honor the T&Cs that will have consequences, such as the suspension of your credit card.
Pay your bill on time: Automate your payments so you don't miss your due dates. Besides aiming for timely payments to avoid late fees, consider paying more than the minimum amount to lessen the interest on your remaining balance.
Keep track of your transactions: Have the discipline of spending only what you can afford to pay. Plan your purchases and stick to a reasonable monthly limit, making sure to prioritize essential items over non-essential ones.
Use your credit card wisely: One way to achieve this is by maximizing the rewards you can earn. For instance, if you have a credit card that offers cash rebates on dining or entertainment, it may be better to limit your purchases in those categories to earn more rewards.
Limit your number of applications: Applying for several cards at the same time may send a message to creditors that you are taking on more debt than what is necessary.
Take time to check your statement of account: Errors may fall through the cracks, and if you catch them late, you may have difficulty filing a dispute with the billing team.
Download mobile banking apps: Most likely, your issuing bank has a mobile app that you can download. Use it to check your balance and the due date, set up auto payments, or ensure that your payment has been recorded and credited accurately even before the next bill gets to you.
Apply for a Credit Card Now

Many people dream of owning a credit card that they can use as a financial safety net for their everyday needs, as well as for the added perks that come with it. Fortunately, unlike in the past, getting your first credit card is simple, easy, and hassle-free through an online application.
In a matter of days, you could already be the happy owner and responsible user of RCBC Bankard's credit card if you apply online now.