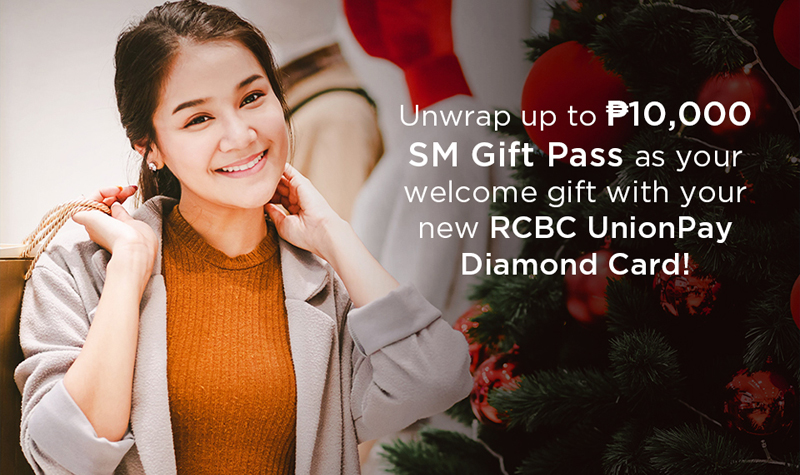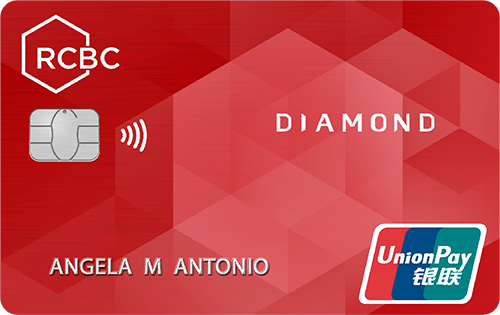 APPLY NOW
To know more about RCBC UnionPay Diamond Card, click here.
PROMO MECHANICS
The Welcome Gift promo is open to all new-to-RCBC Credit Card applicants who applied and subsequently got approved for an RCBC UnionPay Diamond Card from November 10 to December 31, 2022.
Qualified RCBC Credit cardholders must make a single-receipt or accumulated spend anywhere using their new RCBC Credit Card within 60 days from card delivery. The Welcome Gift that the cardholder can redeem will be specific to the Spend Requirement, as indicated in the table below:
SPEND
REQUIREMENT

WELCOME GIFT
₱40,000
₱5,000 SM Gift Pass Voucher Code (Instaperx)
₱60,000
₱10,000 SM Gift Pass Voucher Code (Instaperx)
Transactions made by the Supplementary cardholder will be qualified as part of the Primary cardholder's spend.
All posted retail and installment transactions in pesos and in other currencies are qualified for the promo including online transactions, mail & telephone orders, and recurring payments or bills payment transactions.
The following transactions are excluded from the promo: UnliPay, Cash Advance, Balance/Purchase Conversion, YourCash, Cash Loan, Balance Transfer, Money Transfer and Quasi-Cash, Casino/Gambling, Political organizations, Bail, Bond Payment, Wholesale & Distribution, Multi-level Marketing (e.g. 1BRO Global, USANA, Frontrow, UNO, Suy Sing, Doterra, Herbalife, Alliance, First Vita, Young Living). Transactions with the following Merchant Category Codes ("MCC") are also not qualified.
To avail, the qualified cardholder must register once online from November 10, 2022 to February 28, 2023 at https://cloud.marketing.rcbcbankard.com/activation-unionpay.
Qualified cardholders who have met the required spend amount and who have successfully registered will receive a confirmation and their SM Gift Pass voucher code via SMS based on the schedule below.
| | |
| --- | --- |
| SPEND CUT-OFF DATE* | SMS CONFIRMATION |
| November 10 to 30, 2022 | December 29, 2022 |
| December 1 to 31, 2022 | January 27, 2023 |
| January 1 to 31, 2023 | February 28, 2023 |
| February 1 to 28, 2023 | March 29, 2023 |
| March 1 to 31, 2023 | April 28, 2023 |
| April 1 to 30, 2023 | May 29, 2023 |
*Cardholder must be successfully registered within spend cut-off date.
The cardholder can only avail of the offer and receive a Welcome Gift once for the duration of the promo.
The cardholder will be charged the cost of the Welcome Gift if he/she cancels the qualifying purchase and/or if the credit card transaction or redemption is found to be fraudulent.
The cardholder agrees not to cancel his/her RCBC Credit Card within 24 months from its issue date. In addition, by redeeming the welcome gift, the cardholder agrees to pay the full amount of the Annual Membership Fee. If the cardholder requests for card cancellation or waiver of annual membership fee, the amount equivalent to the welcome gift shall be charged to the cardholder's credit card account as cancellation fee. The cancellation fee must be paid in full before the RCBC Credit Card may be cancelled by RCBC Bankard Services Corporation (RBSC).
The offer cannot be exchanged for cash, rewards points, or products other than the offers indicated above.
The offer is not valid in conjunction with ongoing promotions for new RCBC Credit Cardholders.
All employees of RCBC Bankard Services Corporation, RCBC, and YGC are not qualified to avail of the offer.
In case of dispute with regard to the customer's eligibility and availment of the promo, the decision of RCBC Bankard Services Corporation with the concurrence of DTI shall be considered final. If the dispute involves Rewards Partners and its performance and/or delivery of services and/or products to cardholders, subject to the Promo Mechanics stated above, the decision of RCBC Bankard Services Corporation with the concurrence of DTI shall be considered final.
All questions and issues related to the promo can be accommodated beyond the promo period but in no case beyond thirty (30) days from the issuance of last SMS confirmation.
The promo is subject to the Terms and Conditions governing the issuance and use of RCBC Credit Card.
HOW TO REDEEM
The SM Gift Pass Instaperx Voucher Code will be sent to the qualified cardholder's registered mobile no.
To redeem, qualified cardholder must present his/her SM Gift Pass Instaperx Voucher Code at any SM Store Customer Service Counter
SM Store Customer Service shall exchange the SM Gift Pass Instaperx Voucher Code to SM Gift Pass (₱500s denomination).
SM Gift Pass Instaperx Voucher Code is valid until October 31, 2023.
Per DTI Fair Trade Permit No. FTEB-155317, Series of 2022