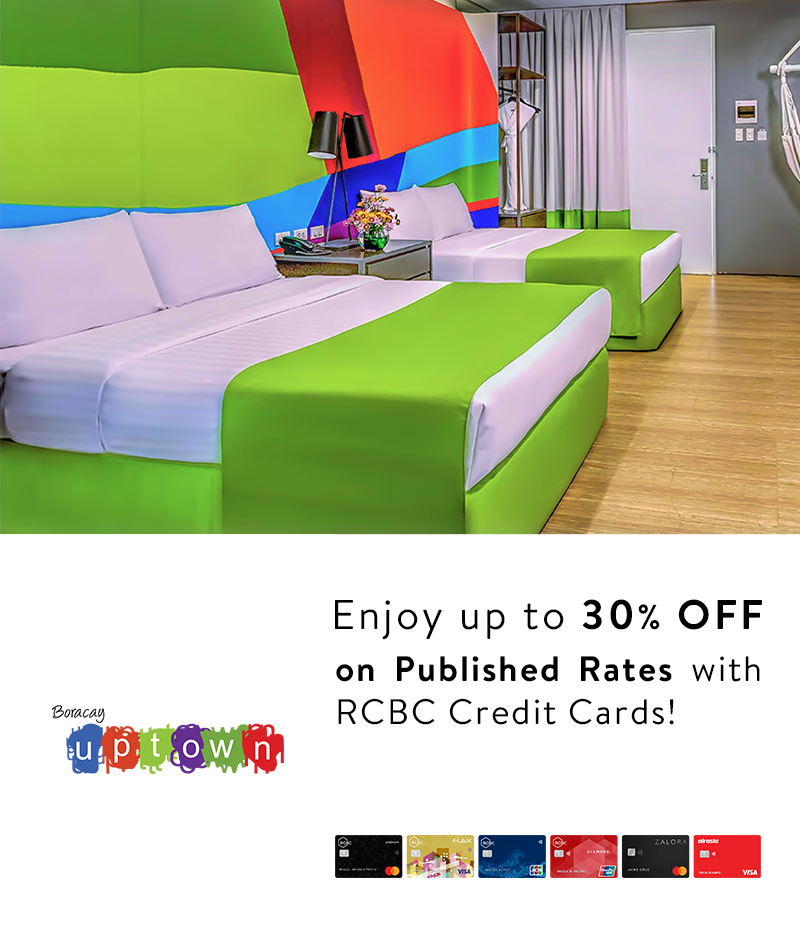 Promo Mechanics: 
The promo is open to all RCBC Credit Cardholders whose accounts are active and in good credit standing.
Booking Period is until March 31, 2023.
Stay Period is until June 15, 2023.
The promo entitles the Cardholders to the following offers when they book using their RCBC Credit Cards during the promo period:
30% OFF on Published Room Rates during Regular Season
20% OFF on Published Room Rates during Peak Season
Terms & Conditions

Room rates are good for Single / Double Occupancy inclusive of breakfast. Some of the rooms can accommodate up to 4 persons, extra person charge will apply.
Child Policy: Maximum of 2 Kids, 10 years old and below are allowed per room, share bed with adults (0 – 5 years old are free of charge, no breakfast / 6 – 10 years old, with Kid charge of P500.00/pax/night, Inclusive of breakfast). Kids 11 years old and above are considered adults.
Hotel/Resort requires a minimum of 2 nights stay on Peak Season dates (Christmas & New Year Season, Chinese New Year and Holy Week).
The discount is applicable on Room Accommodation only.
Cardholders need to make advance reservations via the hotel/resort's reservation hotline or email to avail the promo. The following information will be needed when making reservations: Complete Name of the Guests, Stay Dates, Number of Persons (Adults and Kids including age)*, Contact Number, and Email Address.
*Please note that 11 years old and above is considered adult and will be charged extra person rate.
If room is available on the preferred dates of stay, the hotel/resort will confirm the reservations by sending an email to the Cardholder with the following details: Booking Confirmation Voucher, Safe Stay Protocols, and Pre-Arrival Requirements for tourists travelling to Boracay.
In the Booking Confirmation Voucher that the cardholder will receive, there is an Online Payment Link that can be accessed in order to settle the room reservations using their RCBC Credit Card. Hotel will require a copy of the front image of their RCBC Credit Card prior to settlement.
The Payment Link provided is valid for 3 days. Once payment is done, Cardholder must take a screenshot of the payment confirmation and send it to: boracayuptownreservations@yahoo.com and boracayuptownsales@gmail.com.
Upon arrival, Cardholders will be required to present the actual RCBC Credit Card used in paying for the room reservations. Please be advised that the Cardholder and Guest Name must be the same.
If in any case the Cardholder fails to present the actual credit card upon check-in, the promo/discount will not be applied and will be asked to pay the applicable rate without the discount.
To avail of the promo, the Cardholder must book directly via the hotel's reservation hotline or email. Walk-ins are also accepted. Payment using an RCBC Credit Card must be made upon check-in.  Hotel shall get the credit card information to guarantee the booking.
The standard room cancellation policy of Boracay Uptown/F&C Hotels and Resorts applies.
he Promotion is non-transferrable, non-cumulative, cannot be exchanged for cash or other products and cannot be used in conjunction with any other discounts, promotions, fixed price items. In the purchase of goods and services which are on promotional discount, the senior citizen can avail of the promotional discount under the Expanded Senior Citizens Act 2010, whichever is higher.
Guests must adhere to IATF/DOT rules and follow strict safety Protocols.
In case of disputes related to the promo, the decision of Boracay Uptown/F&C Hotels and Resorts and RCBC Credit Cards/RCBC Bankard Services Corp. shall be conclusive in concurrence with DTI. All questions or disputes regarding the Cardholder's eligibility for the promo shall be resolved by RCBC Credit Cards/RCBC Bankard Services Corp.
DTI Fair Trade Permit No. FTEB-151782 Series of 2022
BORACAY UPTOWN
D'mall Station 2, Balabag, Boracay Island, Malay Aklan 5608, Philippines
Booking details:
Email: boracayuptownreservations@yahoo.com ; boracayuptownsales@gmail.com
Trunk Line: 02 8843 5465/ 8845 0669/ 0917 5616108