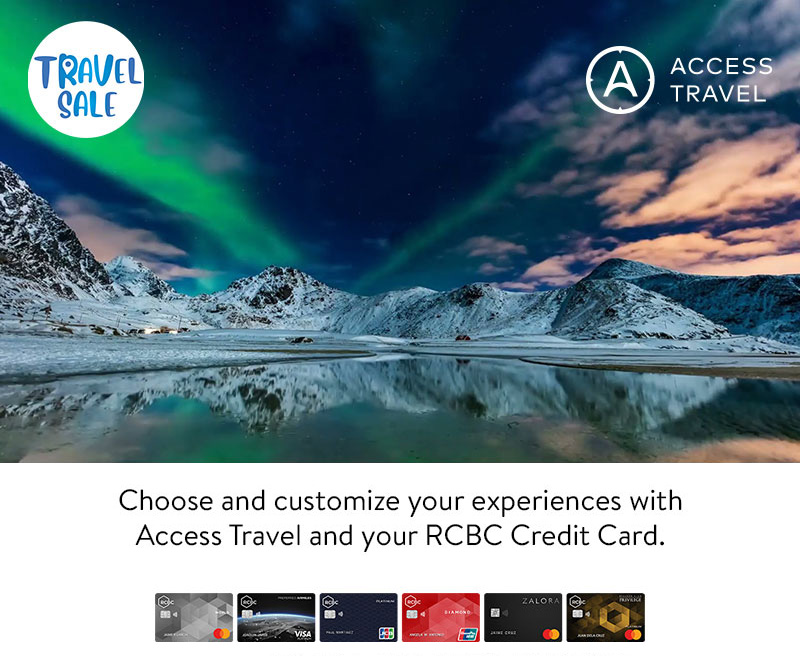 Destinations
Expedition Days 
Rate Per Person
Travel Period

Morocco 
9 days 
USD 2,900 
March 18 - 26, 2023

Finland 
9 days 
USD 6,200 
February 17 - 25, 2023

South America 
18 days 
USD 7,800 
April 1 – 18, 2023

Tanzania 
10 days 
USD 8,900 
July 14 - 23, 2023

Iceland
10 days 
USD 5,900 
Sep 23 - Oct 2, 2023
Oct 7 -16, 2023
How to book with Access Travel:
Inquire with Access Travel through any of the following channels:
One travel consultant will be assigned to you.
Assistance via WhatsApp/Viber will be provided to every client.
Secure your expedition slot with a downpayment of USD2,000 per person using your RCBC Credit Card.
File your visa 3 months prior to the departure of your expeditions.
Settle the full amount with Access Travel 2 weeks before the departure of your expeditions.
Get your travel documents (flights and insurance) ready.
Meet your Access Expert at the destination.
Enjoy the experience and make new memories.
Come back home and receive your photobook from Access.
PROMO MECHANICS
Promo period is from November 1 to December 31, 2022.
The Promo is open to cardholders of RCBC Credit Cards whose accounts are active and in good credit standing.
Cardholders are entitled to avail of the following exclusive offers when they book using their RCBC Credit Card during the promo period:
15% OFF on all Access Expeditions: Morocco, Finland, South America, Tanzania, Iceland, Greenland, and Bhutan
20% OFF on all private tours to any part of the world
The general terms and conditions of the chosen airline and accommodation apply, including any government travel restrictions.
The standard room cancellation policy and airfare cancellation policy of the chosen airline applies. Any applicable charges and penalties will be paid by the cardholder.
Existing documentary requirements for leisure travel to any destinations must be completed and provided by the client.
In case of disputes related to the promo, the decision of Access Travel and RCBC Credit Cards shall be conclusive in concurrence with DTI. All questions or disputes regarding the cardholder's eligibility for the promo shall be resolved by RCBC Credit Cards.
DTI Fair Trade Permit No. FTEB-154309 Series of 2022