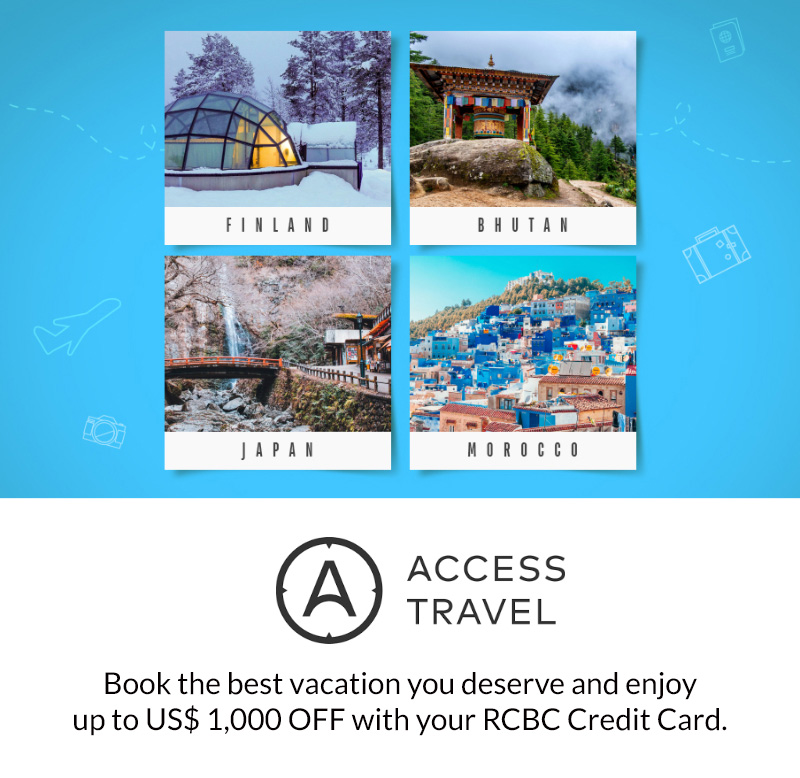 Terms & Conditions
RCBC Credit Cardholders are entitled to avail of exclusive discounts on Group Tour Packages:
Exclusive RCBC Credit Card Offers
US$ 1,000 OFF on Expeditions 
Finland | Bhutan | Iceland | Mongolia | South America | Tanzania | Central Asia
Minimum of two people booking together.
The booking period is from October 25 to December 31, 2023.
For Access Expeditions and Access Lite, to avail of the discount, full payment is required upon booking the experience.
All experiences are together with a group of 8-12 people maximum.
All experiences can be customized into private experiences just for you and your loved ones.
The itinerary and activities on this group tour package are subject to change due to local weather conditions.
Cancellation of the trips and changes are all subject to fees.
Access Experts can process all visa requirements.
Access Expeditions does not include flights.
All card payments are subject to bank and service fees.
For reservations and inquiries, please contact Access Travel via the following channels:
Email: inquiry@travelwithaccess.com
Whatsapp/ Viber/ Telegram: +63 917 679 5338
General Terms & Conditions
The Promo is open to RCBC Credit Cardholders whose accounts are active and in good standing.
Qualified cardholders can avail of exclusive discounts from Access Travel for purchases of Expeditions and Access Lite Group Tour packages during the Campaign Period, provided that the sale transactions are settled using qualified RCBC Credit Cards.
Qualified RCBC Credit Cardholders who made straight payments can convert their transactions to 3 months 0% installment via UNLI 0% or up to 36 months with minimal interest via UNLI Installment using the RCBC App.
Book online and the service hotline.
The promo is not valid in conjunction with any ongoing promos of Access Travel.
The offer is not convertible to cash or credit. It may not be exchanged with any other product.
The Cardholder agrees that should his or her purchase be found fraudulent, RCBC & RCBC Bankard Services Corp. (RBSC) shall have the right to charge the value of the discount to his or her card.
Any dispute concerning the service/s related to the fares shall be settled directly between the cardholder and Access Travel with the concurrence of DTI. In case of a dispute regarding RCBC/RBSC only and the cardholder's card use and qualification to avail of the Promo, the decision of RCBC/RBSC, with the concurrence of DTI, shall be considered final. If, however, a dispute involves Access Travel and its performance and/or delivery of products to the cardholder/passengers/customers, subject to the General Provisions set out above, the decision of RCBC/RBSC and Access Travel, with the concurrence of DTI, shall be considered final.
Terms and conditions governing the issuance and use of RCBC Cards, reminders, and other provisions contained in the card carrier, statement of account, charge slips, and other documents or instruments, which are made an integral part hereof by reference, shall likewise be resorted to in instances where they apply to this Promo.
DTI Fair Trade Permit No. FTEB-179055 Series of 2023