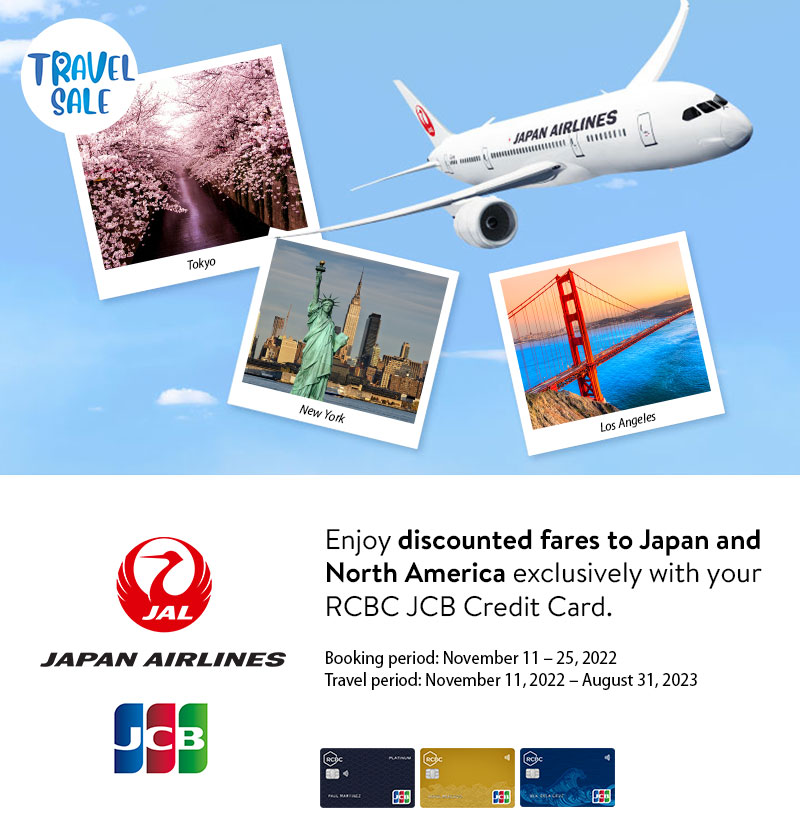 DESTINATION
ECONOMY CLASS*
ROUND TRIP FARE
(starting from)
BUSINESS CLASS*
ROUND TRIP FARE
(starting from)
TOKYO/OSAKA/NAGOYA/FUKUOKA
USD310
USD1,100
OTHER JAPAN CITIES
USD470
USD1,260
LOS ANGELES/SAN FRANCISCO/VANCOUVER
USD720
USD3,553
NEW YORK
USD810
USD3,885
CHICAGO
USD792
USD3,664
*SUBJECT TO AVAILABILITY
How to avail:
Visit this dedicated link: http://www.world.jal.co.jp/world/en/business-on-web/index.html to book flights within the booking & travel period.
Click on "Find Flights and Book" and enter the Company ID and Customer Number:
Company ID: PH944257
Customer number: 452993
Pay using your RCBC JCB Credit Card.
Terms and Conditions:

The promo is open to all RCBC JCB Credit Cardholders whose accounts are active, current, and in good credit standing.
Cardholders in good credit standing are those with RCBC JCB Credit Cards which are not reported lost or stolen, whose accounts are not delinquent, not under investigation due to suspected fraud, and those who have not violated any of the Terms and Conditions governing the Issuance and Use of RCBC Credit Cards.
Qualified Cardholders are entitled to avail of exclusive discounts from Japan Airlines for the purchase of airline tickets during the Promo Period, provided that the sale transactions are settled using a Qualified RCBC JCB Credit Card.
Fares quoted are exclusive of all taxes and surcharges. Philippine Travel Tax will be settled separately at the airport. If eligible for exemption or discount, documents must be presented upon check in.
Fares are valid on Japan Airlines flights marketed and operated flights from Manila-Japan North America and Canada. Flights originating from outside Philippines are not eligible for this offer.
All sectors must be confirmed upon ticket issuance.
No complimentary hotel accommodations will be offered for long transit times between flights.
Fares and taxes will be charged in USD and JCB conversion / exchange rates shall apply upon posting.
A copy of valid passport of the passenger may be required upon request of Japan Airlines.
Offer is subject to community quarantine guidelines. Qualified Cardholders shall ensure they have the appropriate documentation to depart/enter/transit their destination and that they acknowledge the risk involved in travelling, including risks of delay as a result of COVID-19 pandemic. Japan Airlines and JCB shall not be held responsible for any refund or any associated costs if Cardholder shall be denied entry to a country of transit or destination due to reasons such as incomplete document, travel restrictions or health protocols.
The Promotion is non-transferable, non-cumulative, cannot be exchanged for cash or other products and cannot be used in conjunction with any other discounts, promotions, fixed price items, unless otherwise stated.
All fares under this promotion are subject to limited availability and subject to change without prior notice. Offers are subject to terms and conditions of Japan Airlines.
The use of the JCB Credit Card in connection with this promo is subject to the Terms and Conditions governing the issuance and use of the JCB Credit Card.
In case of disputes such as, but not limited to Cardholder's eligibility, coverage of dates, or fulfilments, JCB's decision, together with RCBC Credit Cards, shall prevail with prior approval from DTI.
All questions or disputes regarding the Cardholder's eligibility for the Promo or any redemption shall be resolved by JCB and RCBC Credit Cards, in concurrence with DTI. Likewise, any amendment in the terms and conditions is subject to DTI approval.
Per DTI Fair Trade Permit No. FTEB-155258, Series of 2022.