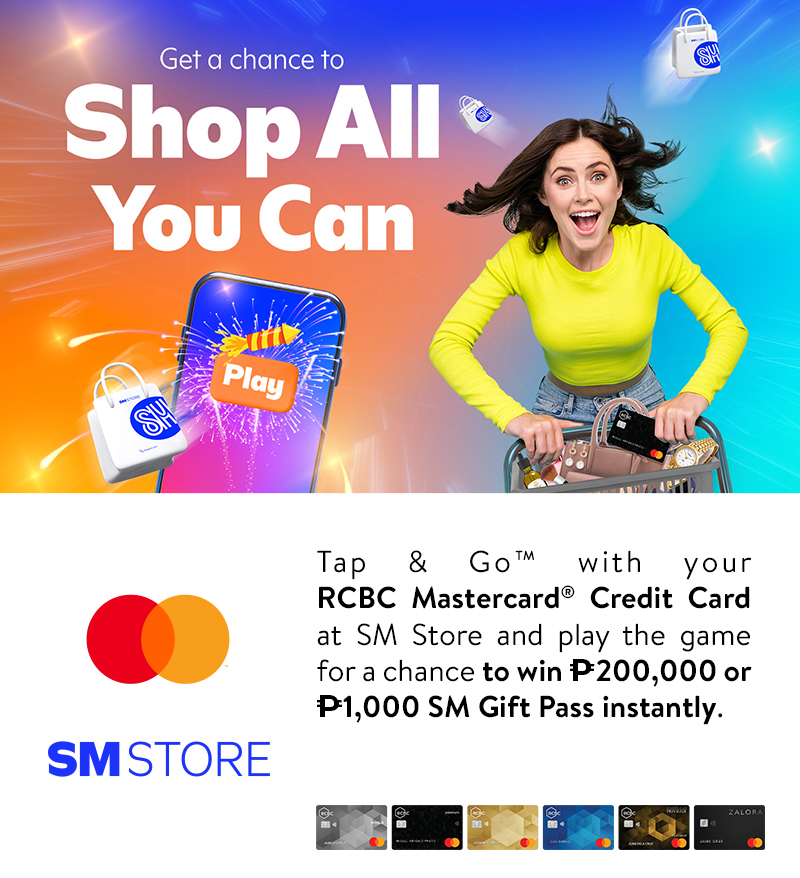 Promo Mechanics
The Promotion is open to all principal and supplementary cardholders of RCBC Mastercard Credit Card whose accounts are active and in good standing.
For a minimum spend of ₱5,000 single-receipt transaction from SM Store paid using an RCBC Mastercard Credit Card gives the cardholder a chance to play and be one of the five instant winners of ₱200,000 or ₱1,000 SM Gift Pass. One game may be played per qualified transaction.
Promotion runs until March 31, 2023.
Promotion is open to SM Store customers with transactions made in-store and via card-present personal shopper transactions (or personal shopper transactions done via EFT).
Promotion is only available in SM Store. Transactions made in other SM Retail Affiliates are not qualified to join the promo and win any prize.
There will be 5 winners of ₱200,000 worth of SM Gift Card and 5,000 winners of ₱1,000 SM Gift Pass nationwide.
Customer journey to play the game:
Scan the QR Code at the cashier or go to the promo website URL to register (one-time only) with an email address or mobile number. Facebook or Google accounts can also be used for registration.
After making a transaction, select the corresponding SM Store location (SM Store branch) then select the transaction type and input the corresponding approval code.
Upon successful submission, the game opens up for the customer to play.
Customer plays by swiping a firework. If the chosen firework reveals a prize, customer wins either ₱200,000 SM Gift Card or ₱1,000 SM Gift Pass. No prize is won if the firework does not show a prize.
The prizes that the Customer has won will be stored in the Prizes tab of the Promo Website. Customer can choose to redeem at any time within the redemption period.
Customer can redeem the SM Gift Card/SM Gift Pass in-store by showing the Voucher Code at the SM Customer Service Counter. Customer will need to present the original charge slip for verification purpose.
Purchase of cell cards, phone cards, SM Gift Cards, SM Gift Pass, Concert Tickets, Returns, Bills Payment Products, and other products at the Customer Service Counter are not qualified for this promotion.
Splitting of transactions is prohibited and shall not be allowed for redemption.
Customer may only win one prize per game and one major prize during the entire duration of the promo.
To claim the prize, winner must present the following at the Customer Service Counter (BCO) of the SM Store where the transaction was made:
Screenshot of the winning voucher code with transaction details
Original charge slip (customer copy) of the SM Store transaction
Mastercard used
Valid ID
Customer Service must verify the original charge slip made at SM Store as well as the other redemption requirements. Prizes from erroneous or mismatched transaction details may be forfeited.
Redemption of prizes can be made until May 31, 2023.
Prize is non-convertible to cash.
SM Store and RCBC Mastercard reserve the right to disclose and publish names, photos, videos, and other information of the winners in any mode or manner as they deem appropriate.
Employees of SM Store, Mastercard, and its accredited advertising agencies and suppliers, and their family relatives up to 2nd degree of consanguinity or affinity are disqualified from participating in the promotion.
Per DTI Fair Trade Permit No. FTEB-158220 Series of 2022