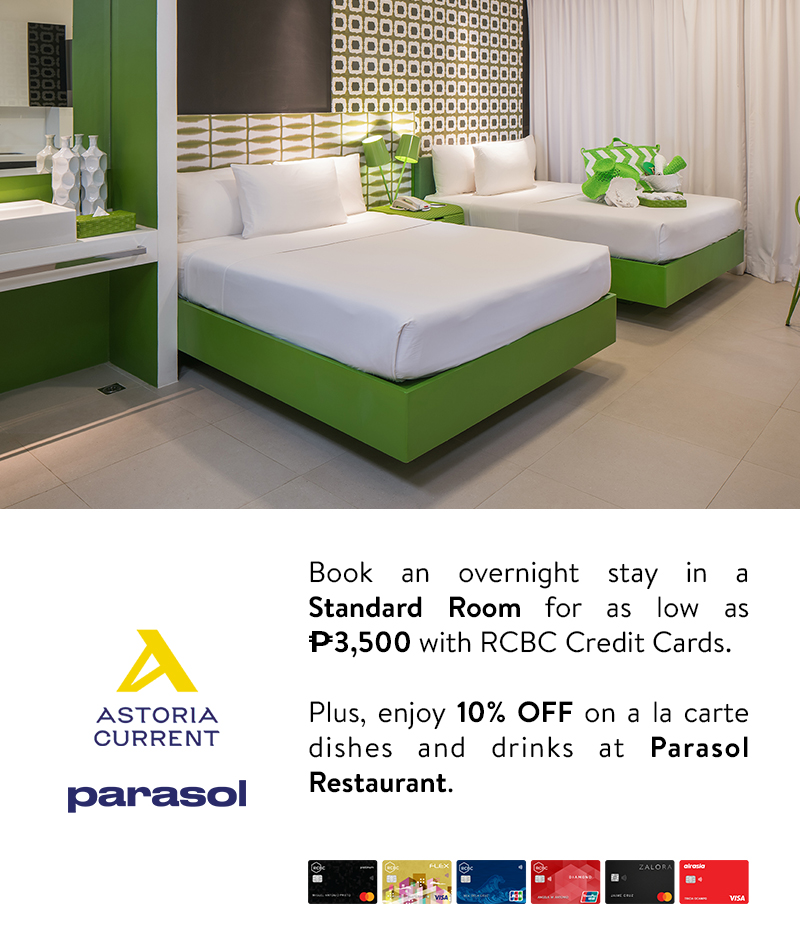 Promo Mechanics

The promo is open to all RCBC Credit Cardholders whose accounts are active and in good credit standing.
Promo/Booking period is from February 15, 2023 to March 15, 2024.
For hotel offer, stay period is until March 31, 2024.
Cardholders are entitled to the following offers at Astoria Current using their RCBC Credit Cards during the promo period, subject to room availability, black out date/s, and other conditions:
OFFERS
Overnight stay in a Standard Room for only ₱3,700
Minimum stay of 2 nights is required
Overnight stay in a Standard Room for only ₱3,500
Minimum stay of 4 nights is required
Overnight stay in a Deluxe Room for only ₱3,500
Minimum stay of 7 nights is required
10% OFF on a la carte dishes and drinks at Parasol Restaurant
Valid for dine-in with a minimum bill of ₱1,000 and a maximum bill of ₱5,000
Offer cannot be used in conjunction with other ongoing promos and discounts of RCBC Credit Cards, Astoria Hotels and Resorts, Astoria Vacation and Leisure Club, Inc., and Stellar Vacation Club.
Cardholders with mandatory and government-regulated discounts have the option to choose which promo or discount to apply.
In the purchase of goods and services which are on DTI-approved promotional discount,  the person with disability (PWD) can either avail of the promotional discount or the discount provided under the Republic Act 10754, "An Act Expanding the Benefits and Privileges of Persons with Disabilities", if applicable, whichever is higher.
In case of disputes related to the promo, the decision of Astoria Current and RCBC Credit Cards/ RCBC Bankard Services Corp. (RBSC) shall be conclusive in concurrence with DTI. All questions or disputes regarding the Cardholder's eligibility for the promo shall be resolved by RCBC Credit Cards/RBSC.
Terms & Conditions – Room Offer
Blackout dates apply: April 6 to 9, 2023, December 23, 2023 to January 2, 2024, and March 28 to 31, 2024.
Rates are based on single or twin-sharing accommodation.
All guestrooms are strictly non-smoking.
Standard check-in time for Astoria Current is 2PM. Standard check-out time is 12 PM. Request for early check-in/late check-out is subject to room availability.
Prior reservation is required, and the guest shall be duly informed in advance if his/her desired booking period is unavailable. The guest may choose to book during a different alternate available period.
Pursuant to IATF-EID directives, Astoria Current shall be limiting the number of guests per room. Also, all guests shall be asked to provide copies of their government-issued IDs, acceptable proof of full vaccination, and/or negative RT-PCR/antigen test as may be required by the IATF-EID. They will also need to file a health declaration form prior entry to hotel premises.
Offer is non-transferable, non-convertible to cash, non-assignable, and non-exchangeable.
Offer cannot be used for group bookings.
Offer includes room accommodation (and specified freebies), hotel taxes, and service charge only. Other expenses incurred, such as set breakfast, will be charged to the cardholders' accounts.
To avail of the promo, cardholders must book directly via the hotel's reservation hotline or email:
Email: rsvn@astoriacurrent.com
Mobile: +63 998-968-1265
Promo is not available for booking online.
In case of cancellation due to force majeure and pandemic travel restrictions imposed by the government, reservations may be rebooked within six (6) months upon booking. Contact the hotel for rebooking, subject to room availability.
Only one amendment per booking is permitted. Furthermore, it must be made twenty-one (21) calendar days or more before the arrival date to avoid a no-show administration charge. A flat rescheduling fee of ₱1,000 applies and will be charged to the card used to process the booking.
The standard room cancellation policy of Astoria Current applies.
The general hotel terms and conditions of Astoria Current applies.
Terms & Conditions – Dining Offer
Promo is valid only from Mondays to Thursdays, 10 AM to 5PM.
Blackout dates apply: April 6-9, 2023 , May 14, 2023, June 18, 2023, October 31, 2023 to November 2, 2023, December 16, 2023 to January 2, 2024, February 10, 2024, and February 14, 2024.
Alcoholic drinks, group meals, and special offers are excluded from this promo.
This offer is valid only for dine-in transactions. This is subject to change depending on the advisory of IATF-EID. 
Reservations are highly recommended. Cardholders are encouraged to call with their orders and complete information via mobile at +63 949-993-0401. 
LOCATION:
Sitio Mangayad, Brgy.Manoc Manoc, Station 3, Malay, Boracay Island, Aklan
DTI Fair Trade Permit No. FTEB-162641 & 162562 , Series of 2023