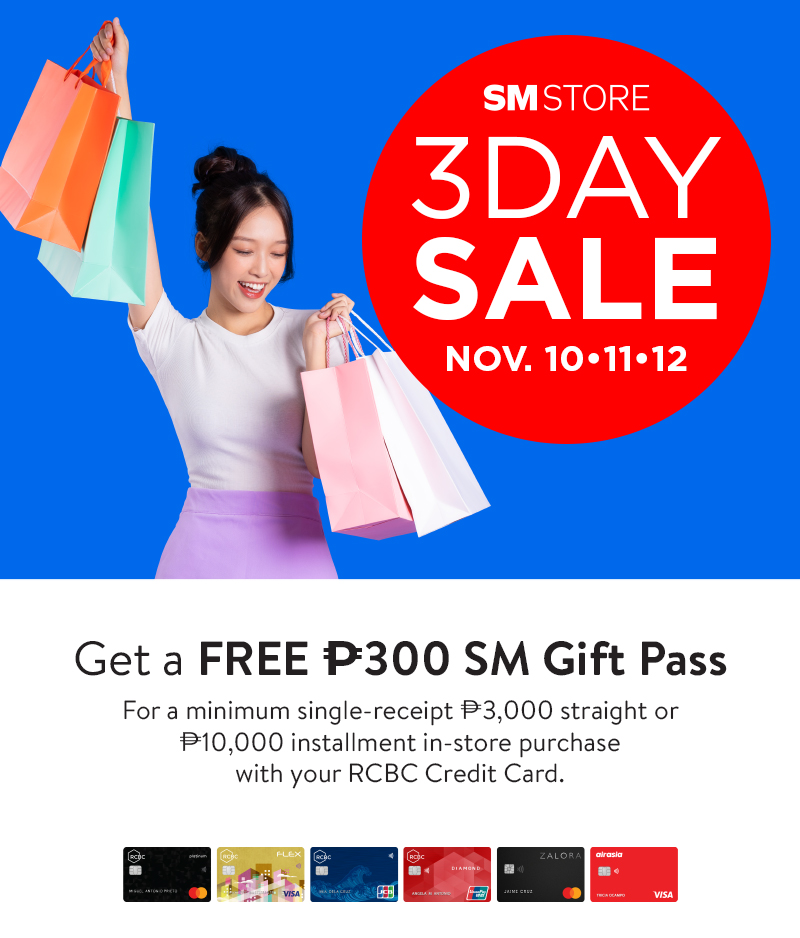 PROMO MECHANICS
The promo is open to all RCBC Credit Cardholders whose accounts are active and in good credit standing, excluding corporate cards
The SM Store 3-Day Sale is from November 10-12, 2023 at the following The SM Store branches:
PARTICIPATING SM STORES
Makati
Cubao
Quiapo

The SM Store Personal Shopper and ShopSM transactions are excluded for this promo.
To qualify for the promo, cardholders must register at https://cloud.marketing.rcbcbankard.com/sm3ds2023, & use their RCBC Credit Cardholders and meet the spend requirement during the sale events specified above:
The cardholder must only register ONCE within the specified period and ensure that correct details are entered. Registration with an incomplete card number and/or misspelled name will not be approved. The Principal Cardholder must have updated contact details with RCBC Credit Card/ RCBC Bankard Services Corp., and by registering for the promo, the cardholder agrees to receive SMS/text messages or e-mails, and freely consents to process his/her personal information in relation to the promo.
Spend Requirement (Min. single-receipt)*
Freebie
₱3,000 straight
₱300 SM Gift Pass
(3 pcs. of ₱100 SM Gift Pass)

₱10,000 installment
₱300 SM Gift Pass
(3 pcs. of ₱100 SM Gift Pass)

*The minimum purchase requirement is defined as net of all applicable discounts (i.e., class discounts, SM Advantage/SM Prestige discounts and other SM discounts).
Qualified RCBC Credit Cardholder will receive the SM Gift Pass Code via SMS thru his/her registered mobile number after 15 working days from the last day of the sale event.
RCBC Credit Cardholder can only redeem once per account every sale event, across all branches. Maximum freebie amount per account per sale period is ₱300.
Splitting of transaction shall be deemed fraudulent and shall not be allowed for redemption.
Transactions made by the Supplementary cardholder are qualified as part of the Primary cardholder's spend.
To claim& redeem the actual SM Gift pass, RCBC Credit Cardholder must present the code (SMS) from RCBCBANKARD (sender ID) at any SM Store Customer Service until 60 days after the sale period.
RCBC Bankard Services Corp./ RCBC Credit Cards reserves the right to reverse the amount of the Freebie awarded to the Principal and Supplementary Cardholder in the event that the qualifying transactions were cancelled at a later date or if the transaction is found to be invalid or fraudulent or a reversal of entry is made on any of the qualified transactions.
Freebies are non-transferable and non-convertible to cash or other premium items.
The promo cannot be used in conjunction with other ongoing promos and is subject to the Terms and Conditions governing the issuance and use of the RCBC Credit Card.
In case of dispute, in respect of but not limited to the Cardholder's eligibility, coverage of dates, transaction qualification, fulfillment, RCBC Bankard Services Corp/ RCBC Credit Card'sdecision shall prevail with concurrence of DTI. All decisions made will be deemed final and non-negotiable. All questions or disputes shall be raised by the Cardholder within sixty (30) days after sending of Codes.
DTI Fair Trade Permit No. FTEB-179298, Series of 2023