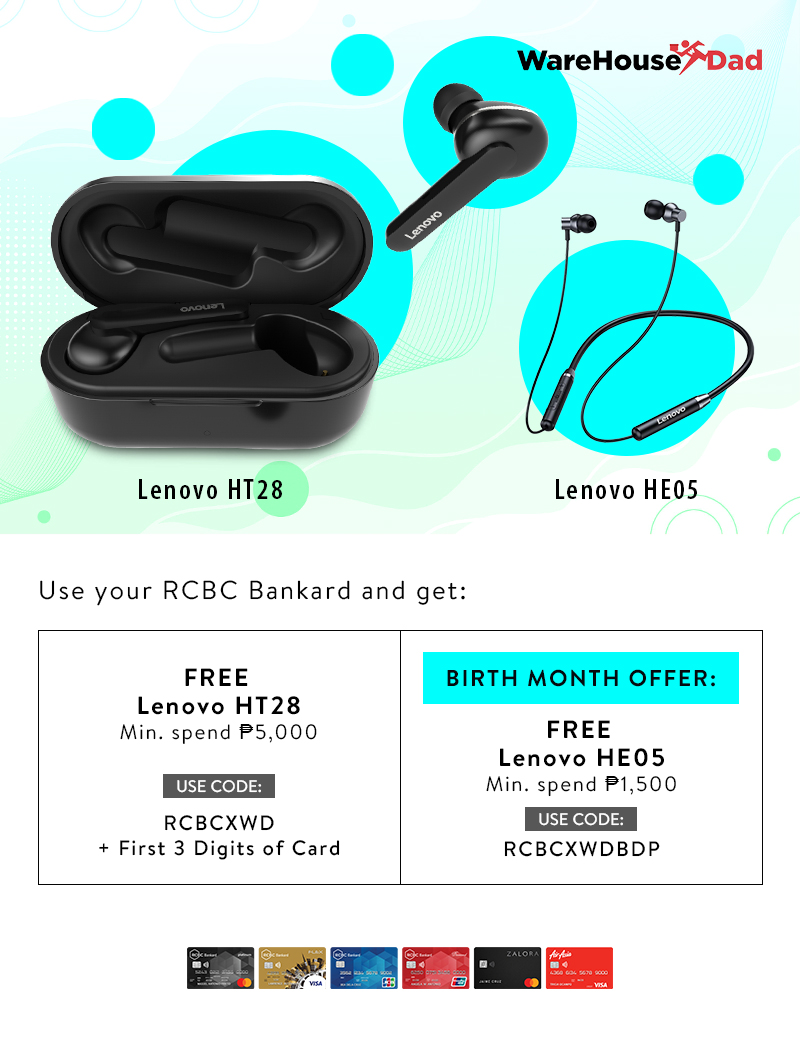 Promo Mechanics:
1. The promo is open to all RCBC Credit Cardholders whose accounts are active and in good credit standing.
2. The Promo period is from August 5, 2022 to February 5, 2023.
3. Cardholders can avail of the following using their RCBC Credit Card at www.warehousedad.com:
FREEBIE
SPEND REQUIREMENT
FREE Lenovo HT28

Valid for a minimum spend of ₱5,000

Promo code: RCBCXWD + First 3 numbers of your RCBC Credit Card

Birthday Month Offer:

FREE Lenovo HE05

Valid for a minimum spend of ₱1,500

Promo code: RCBCXWDBDP
4. Promo code can be used up to two times only.
5. Birth month promo code will be sent to the cardholders during their birth month via email.
6. Delivery is available at areas serviceable by gogo express or Ninjavan.
7. Promo is not valid in conjunction with existing promotional offers of RCBC Credit Cards and Warehouse Dad.
8. In case of disputes related to the promo, the decision of Warehouse Dad and RCBC Credit Cards shall be conclusive in concurrence with DTI. All questions or disputes regarding the Cardholder's eligibility for the promo shall be resolved by RCBC Credit Cards.
Per DTI Fair Trade Permit No. FTEB-148461 Series of 2022