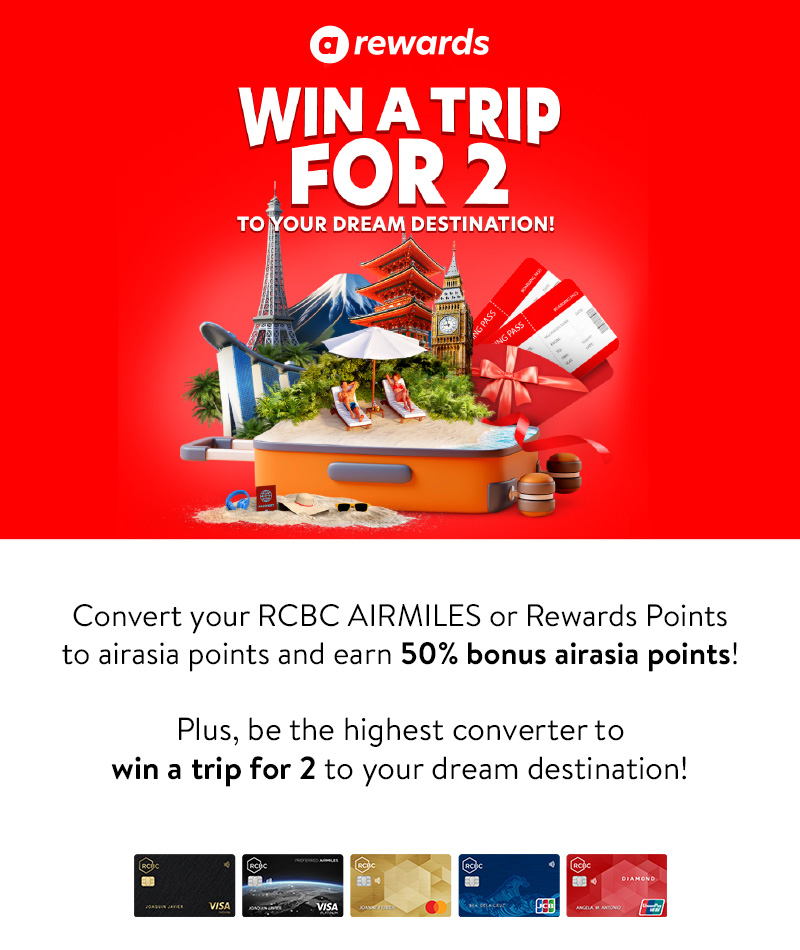 How to Redeem and Convert:
Cardholder must be an airasia rewards member and must be located in the Philippines. Not yet a member? Please register at https://www.airasia.com/rewards/en/gb.
Convert your RCBC Credit Cards AIRMILES or Rewards Points to airasia points via https://cloud.marketing.rcbcbankard.com/airasia from now until June 15, 2023.
Enjoy 50% bonus airasia points (capped at 20,000 airasia points within the promo period). Use your airasia points to redeem flights, hotels, SNAP (packaged hotels), lifestyle deals, and more via the airasia Super app.
Additionally, Cardholders may participate by successfully performing points conversion from any of air asia's partners rewards points into airasia points through:
airasia xchange platform (subject to airasia xchange's terms and conditions which can be found on the Dedicated Platforms) via instant or point code conversion; and/or
manual points conversion on the respective Partners' platform during the Campaign Period to be entitled to earn bonus airasia points ("Bonus airasia points"). For more details on points conversion mechanism, visit airasia.com.
Promo Mechanics:
The program is open to cardholders of the following RCBC Credit Cards:  Visa Infinite, Visa Platinum, Flex Visa & Flex Gold Visa, World & Platinum Mastercard, Classic & Gold Mastercard, JCB Platinum, Classic & Gold JCB, Hexagon Club, YGC Rewards Plus, UnionPay Diamond, Co-Branded Cards: Phoenix & ZALORA Credit Card
Promo period runs until June 15, 2023.
Cardholders must be active and in good credit standing during the promo period in order to qualify.
Cardholder must be an airasia member and have a valid airasia membership ID.
RCBC Credit Card Rewards Points or AIRMILES redeemed/converted to airasia points during the promo period shall be subject to a Bonus Points multiplier and will be awarded by airasia rewards as indicated below:
50% bonus airasia points (capped at 20,000 within the promo period)
Minimum redemption is at 2,500 RCBC Credit Cards Rewards Points or Airmiles
Cardholders are allowed to make multiple conversion transactions during the Promo Period, to be entitled to earn the Bonus airasia points. Each Cardholder is entitled to a maximum of 20,000 Bonus airasia points throughout the promo period.
The Bonus airasia points earned through this Campaign are only valid for a period of six (6) months from the date such airasia points are credited into Cardholder's airasia member account. Any airasia points not utilised within its validity period will lapse without notice or liability.
The earned RCBC Credit Card Rewards Points or AIRMILES of the supplementary cardholder are pooled under the account of the principal cardholder.
RCBC Credit Card Rewards Points or AIRMILES are non-transferable.
Redemption/s with exception must be addressed by the cardholder within thirty (30) working days after the promo period to qualify for the multiplier. Otherwise, regular redemption shall apply.
airasia points/Bonus airasia points earned through this Promo will be credited into the eligible Cardholder's respective airasia member account within seventy five (75) days after the end of the Promo Period.
For non-AIRMILES enrolled cardholders, submission of redemption via online registration will automatically enroll his/her account in the AIRMILES programs.
In addition to Bonus airasia points entitlement for both points conversion and points issuance, one (1) Participant with the highest number of airasia points earned from carrying out the points conversion or/and points issuance ("Winner") will win a pair of complimentary voucher for AirAsia flight tickets (round-trip) for 2 pax to an AirAsia destination of their choice.
The determination of winners will be on June 28, 2023 and DTI will be present during the determination of winners. The Winner will be announced through airasia rewards Philippines' Facebook page on July 15, 2023. Please refer to the Top Earner/Higher Converter mechanics at airasia.com.
All matters and disputes will be subject to the final decision of RCBC Bankard and its partner merchant in concurrence with the DTI and will be deemed final.
Per DTI Fair Trade Permit No. FTEB-166723, Series of 2023