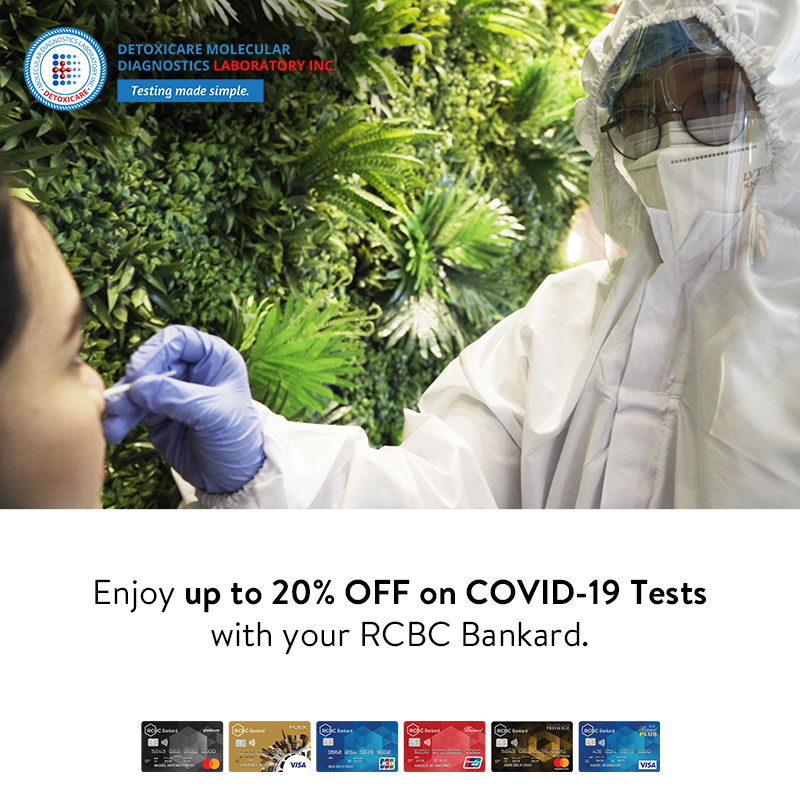 Promo Mechanics:
1. The promo is open to all RCBC Credit Cardholders whose accounts are active and in good credit standing.
2. Promo period is from June 15 to December 31, 2022.
3. Cardholders can avail of 20% OFF on COVID-19 Tests using their RCBC Credit Card during the promo period.
| | |
| --- | --- |
| Type | Promo Rate |
| Express | ₱2,688 |
| STAT | ₱2,160 |
| Regular | ₱2,100 |
4. Offer is applicable to both walk-in at participating branches and home service clients (within Metro Manila only).
5. Discount will only apply to COVID-19 test processing.
6. For home service, pre-booking at least one day prior to the swab date is required to ensure availability. Rate is exclusive of transportation fee.
7. Promo is not valid in conjunction with existing promotional offers of RCBC Credit Cards and Detoxicare Molecular Diagnostics Laboratory.
8. In case of disputes related to the promo, the decision of Detoxicare Molecular Diagnostics Laboratory and RCBC Credit Cards shall be conclusive in concurrence with DTI. All questions or disputes regarding the Cardholder's eligibility for the promo shall be resolved by RCBC Credit Cards.
DETOXICARE SWABSITES
Metro Manila
Detoxicare Camarin Lot 1179 -D Thunder Bird Subd. Camarin Rd.
Brgy.174 Caloocan City
+639707492766
Monday to Saturday
8:00am to 5:00pm
Sunday (8:00am to 3:00pm)
Detoxicare Malate
2130 M.H. Del Pilar St.
Malate, Manila
+639950903711
Monday to Saturday
9:00am to 5:00pm
Central Luzon
Detoxicare Cabanatuan
Maharlika Highway,
Purok Pantoc 1, Brgy.
Daang Sarile, Cabanatuan City
(In front of Suzuki)
+639770411259
Monday to Sunday
7:30pm to 4:00pm
Detoxicare Malolos
Parking Lot Waltermart Malolos KM45
Longos Malolos Bulacan
+639383712036
Monday to Saturday
8:00am to 4:30pm
Detoxicare Plaridel Site 1:
Employees Parking Waltermart
Plaridel Banga 1st Plaridel Bulacan
+639751826158
Monday to Sunday
8:00am to 4:30pm
Detoxicare Plaridel Site 2:
462 General Alejo Santos
Road Culianin Plaridel Bulacan
+639751826158
Monday to Saturday
8:00am to 5:00pm
Sunday (by appointment)
Detoxicare Tarlac
F. Tañedo St., Brgy. San Nicolas,
Tarlac City, Tarlac
(In front of Motortrade and
Philippine Business Bank Near
Loving Mother General Hospital)
+639303532199
Monday to Sunday
8:30am to 4:00pm
South Luzon
Detoxicare Araya Sta. Rosa
In front of The Araya Park
Residences Brgy. Tagapo,
Sta. Rosa City, Laguna
+639171674417
Monday to Friday
9:00am to 4:00pm
Detoxicare Batangas 84 Rizal Avenue Brgy.
22 Batangas City
+63968856 8238
+639777870603
Monday to Saturday
8:00am to 4:00pm
North Luzon
Detoxicare La Union
Brgy III, City of
San Fernando La Union
+639989867285
+639988694294
Monday to Sunday 6:00am to 3:00pm

East NCR
Detoxicare Antipolo T.S. Adriano Bldg.,
P. Oliveros St., Brgy.
San Roque, Antipolo City
Anne Rodriguez
+639153790846
Monday to Sunday
8:00am to 5:00pm
Home Service
Detoxicare Customer Service Hotline Numbers
0253184100
0288976994
09171045179
09190071354
09695019150
09369857491
09688873651

Per DTI Fair Trade Permit No. FTEB-145194 Series of 2022