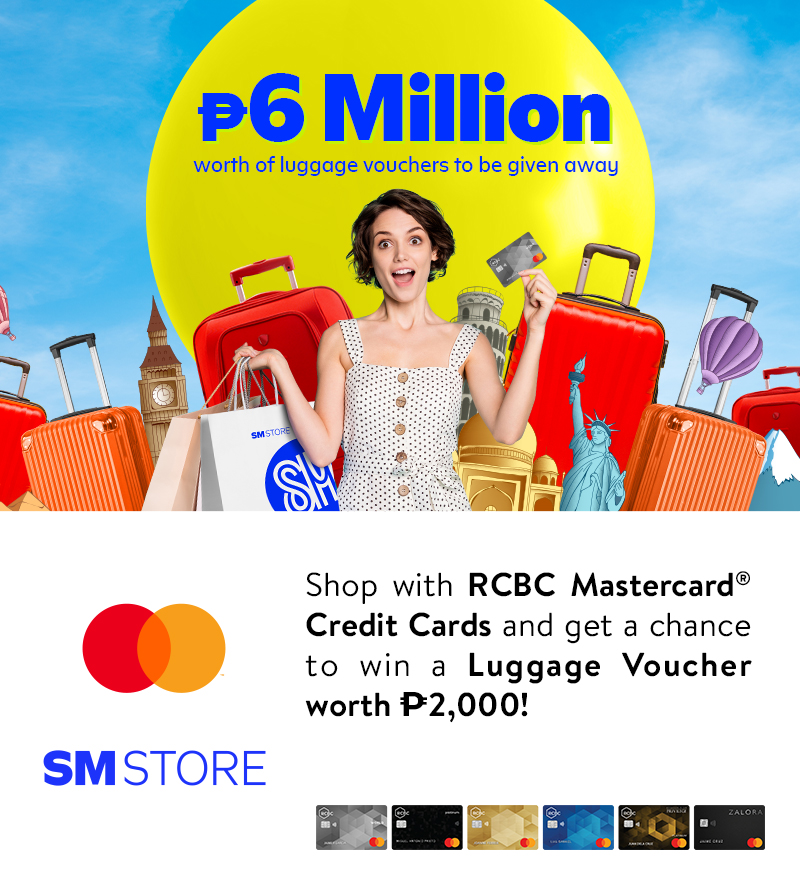 Promo Mechanics
The Promotion is open to all principal and supplementary cardholders of RCBC Mastercard Credit Card whose accounts are active and in good standing.
For a minimum spend of ₱5,000 single-receipt purchase (straight or installment) from SM Store paid using an RCBC Mastercard Credit Card gives the cardholder a chance to win a luggage voucher worth ₱2,000.
Promotion runs until June 30, 2023.
Promotion is open to SM Store customers with transactions made in-store and via card-present personal shopper transactions. Transactions paid via iPay88/email billing are excluded from the promo.
Promotion is only available in SM Store. Transactions made in other SM Retail Affiliates are not qualified to join the promo and win any prize.
There will be 3,000 winners nationwide.
Purchase of cell cards, phone cards, SM Gift Cards, SM Gift Pass, Concert Tickets, Returns, Bills Payment Products, and other products at the Customer Service Counter are not qualified for this promotion.
The winner must surrender and sign the original winning stub. The Transaction receipt and winning charge slip should be marked/stamped "CLAIMED" upon release of the voucher.
Cardholders can only claim their Prize at the same branch of the SM Store where the transaction was made.
SM Store and RCBC Mastercard will not replace lost or damaged prizes caused by the winner (cardholder).
SM Store and RCBC Mastercard Philippines reserve the right to disclose and publish names, photos, and other information of the winners in any mode or manner as they deem appropriate.
Employees of the SM Store, Mastercard, and its accredited advertising agencies and suppliers, and their family relatives up to 2nd degree of consanguinity or affinity are disqualified from participating in the promotion.
Redemption of prizes can be made until August 31, 2023.
Luggage Voucher Redemption
The voucher is redeemable at any SM Store branch.
Voucher is transferrable but not convertible to cash.
Voucher must be used to purchase at least one luggage item.
No change will be given if total purchase amount is less than P2,000. Any payment tender may be used to settle any amount in excess of P2,000.
The voucher is valid until August 31, 2023.
Claiming of the Prize
To claim the luggage voucher, winners are to present the following at the Customer Service Counter of the branch where they won:
Winning Transaction Receipt
Winning Stub
Mastercard used for the transaction and charge slip
One (1) valid ID
Each luggage voucher will have a unique one-time voucher. Once used, the voucher can no longer be re-used.
If the winner is unable to personally claim the prize and decides to send a representative, an Authorization Letter from the winner bearing his/her winning credit card and the representative's valid ID must be presented.
Per DTI Fair Trade Permit No. FTEB-164312 Series of 2023