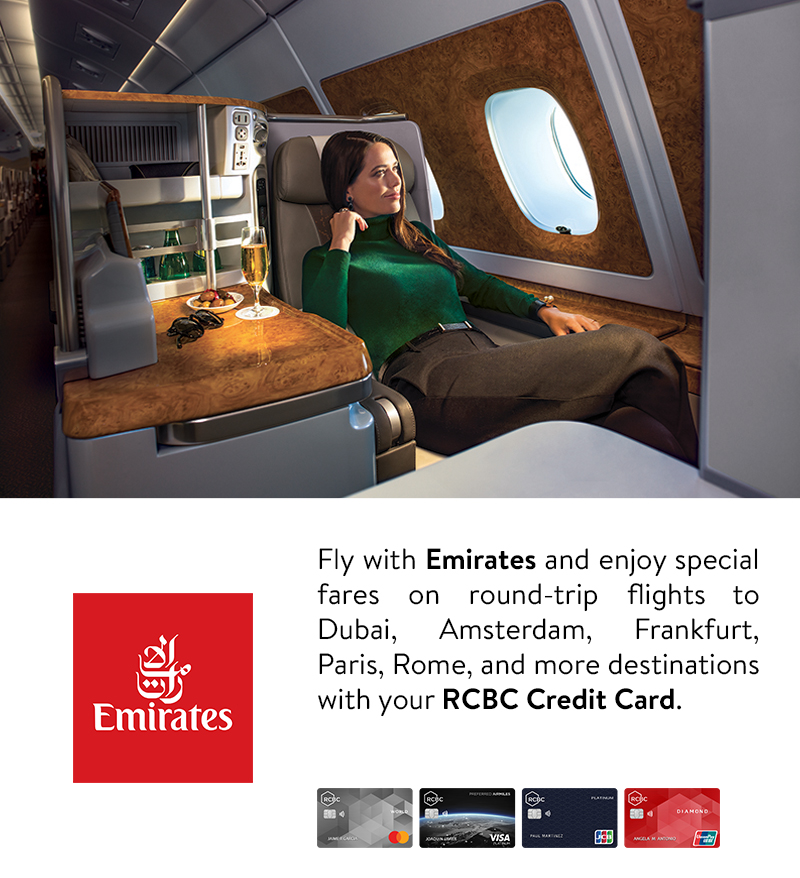 Promo Period: March 6 to 19, 2023
Travel Period: March 9 to December 31, 2023
Destination
Business RT Fares (USD)
(starting from)
Economy RT Fares (USD)
(starting from)
Amsterdam

2,271

698

Copenhagen

2,144

786

Paris

2,476

674

Dubai

1,920

492

Rome

2,005

664

Frankfurt

2,144

710

Madrid

2,207

686

Barcelona

2,207

686

Istanbul

1,598

659

New York
3,069
1,091
Rates vary per date & destination, and exclude taxes/fees.
Promo Mechanics
The Promo is open to RCBC Credit Cardholders whose accounts are active and in good standing.
Qualified Cardholders are entitled to avail of the available discounted fares from Emirates for purchases of airline tickets.
Book online via Emirates https://www.emirates.com/ph/english/book/featured-fares/ and ticket office.
Fares quoted are exclusive of all taxes and surcharges (eg. Philippine Travel Tax and Terminal Fee).
Fares are valid only on Emirates marketed and operated flights.
Please refer to each fare rules details for ticket restrictions.
All flight sectors must be confirmed upon ticket issuance.
No complimentary hotel accommodations will be offered for long transit times between flights.
Prevailing USD-PHP exchange rates at the time of booking shall apply on fares quoted in US Dollars.
A copy of valid passport of the passenger may be required upon request of Emirates.
Qualified Cardholders shall ensure they have the appropriate documentation to depart/enter/transit their destination and that they acknowledge the risk involved in travelling, including risks of delay as a result of COVID-19 pandemic. Emirates and RCBC Credit Card shall not be held responsible for any refund or any associated costs if Cardholder shall be denied entry to a country of transit or destination due to reasons such as incomplete document, travel restrictions or health protocols. For more information, you may call:
Reservations Hotline : +632 7792-6045 (Dial 1 after the prompt or stay on the line)
Office hours: Mondays through Fridays – 8:30 AM to 4:00 PM
Ticket Office : 18/F Pacific Star Bldg. Buendia cor. Makati Avenue, Makati City
Office hours: Mondays through Fridays – 8:30 AM to 4:00 PM
Flight originating from outside Philippines is not eligible for this offer.
The offer is not convertible to cash or credit. It may not be exchanged with any other product.
The Cardholder agrees that should his or her purchase be found fraudulent, RCBC Credit Card shall have the right to charge the value of the discount to his or her card.
Any dispute concerning the service/s related to the fares shall be settled directly between the Cardholder and Emirates with the concurrence of DTI.
In case of dispute in respect of RCBC Credit Card only and the Cardholders' card use, the decision of RCBC Credit Card with the concurrence of DTI shall be considered final. However, if dispute involves Emirates and its performance and/or delivery of products to customers, subject to the General Provisions set out above, the decision of RCBC Credit Card and Emirates with the concurrence of DTI shall be considered final.
Terms and conditions governing the issuance and use of RCBC Credit Card, reminders and other provisions contained in the card carrier, statement of account, charge slips, and other documents or instruments, which are made an integral part hereof by reference, shall likewise be resorted to in instances where they are applicable to this Promo.
CAB Approval No. 0206-02-22 s.2023