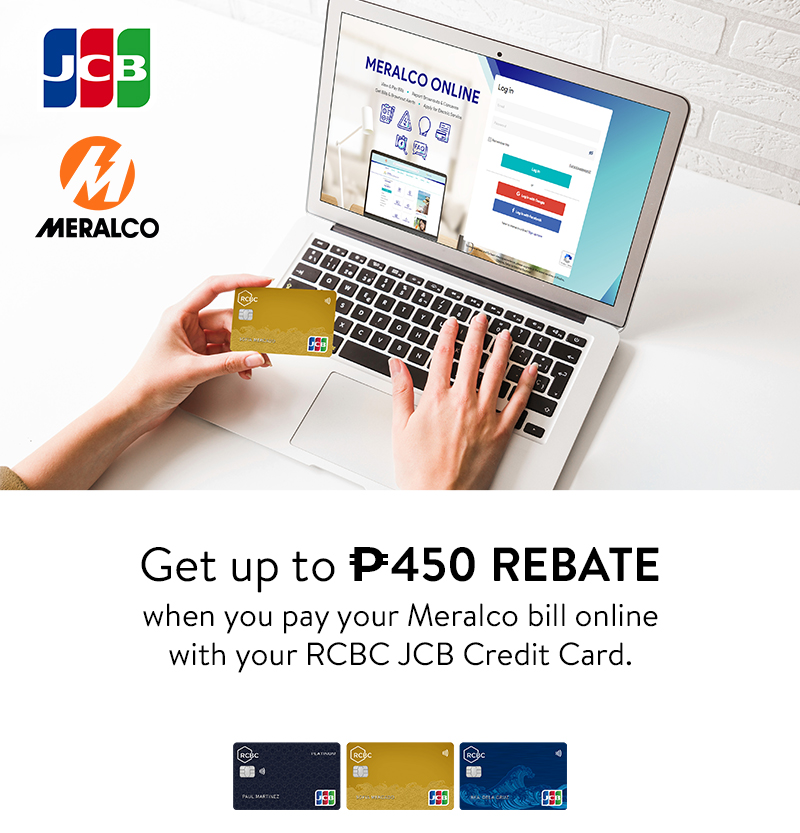 Promo Mechanics
Promotion Period: January 1 to March 31, 2023
Eligibility: All RCBC JCB Credit Cardholders whose accounts are active and in good credit standing.
Details of the campaign:
Throughout the Promotion Period, transactions at Meralco webpage or Meralco mobile app by eligible RCBC JCB Credit Cardholders that were posted or billed are qualified to earn a ₱150 rebate per transaction.
Minimum amount per transaction must be ₱1,000.
The minimum rebate is ₱150 per transaction, which can be availed 3x by the cardholder.
The maximum rebate per cardholder is ₱450 all throughout the promotion period.
How to earn a Cash Rebate:
An RCBC JCB Credit Cardholder must use his/her RCBC JCB Credit Card at the Meralco webpage or Meralco mobile app to get ₱150 rebate per cardholder per transaction.
The maximum total Cash Rebate during the promo is ₱450 per qualified cardholder.
Transactions of Principal and Supplementary RCBC JCB Credit Cardholders are computed separately for the earning of rebates which will be posted to the Principal Cardholder's account within 25 business days after the Campaign Period.
Cardholder must be active and of good credit standing at the time of crediting of the cash rebate, otherwise, the cash rebate earned shall be forfeited.
Rebates awarded are non-transferable and non-convertible to cash, however, it is treated as a credit or payment for purchases or any outstanding balance on the Card.
The cash rebate cannot be redeemed in conjunction with other promotional offers of the issuing bank. Similarly, if the transaction is cancelled/reversed or found to be invalid or fraudulent at a later date, RCBC Credit Cards/RCBC Bankard Services Corp (RBSC) will chargeback the cash rebate credited to his/her Card or directly collect cost from the Cardholder.
In case of dispute but not limited to the Cardholder's eligibility, coverage of dates and fulfillment, RCBC Credit Cards/RBSC's decision shall prevail with the concurrence of DTI. All questions or disputes shall be raised by the Cardholder within sixty (60) days after posting of cash rebate by RCBC Credit Cards/RBSC.
Per DTI Fair Trade Permit No. FTEB-158246, Series of 2022