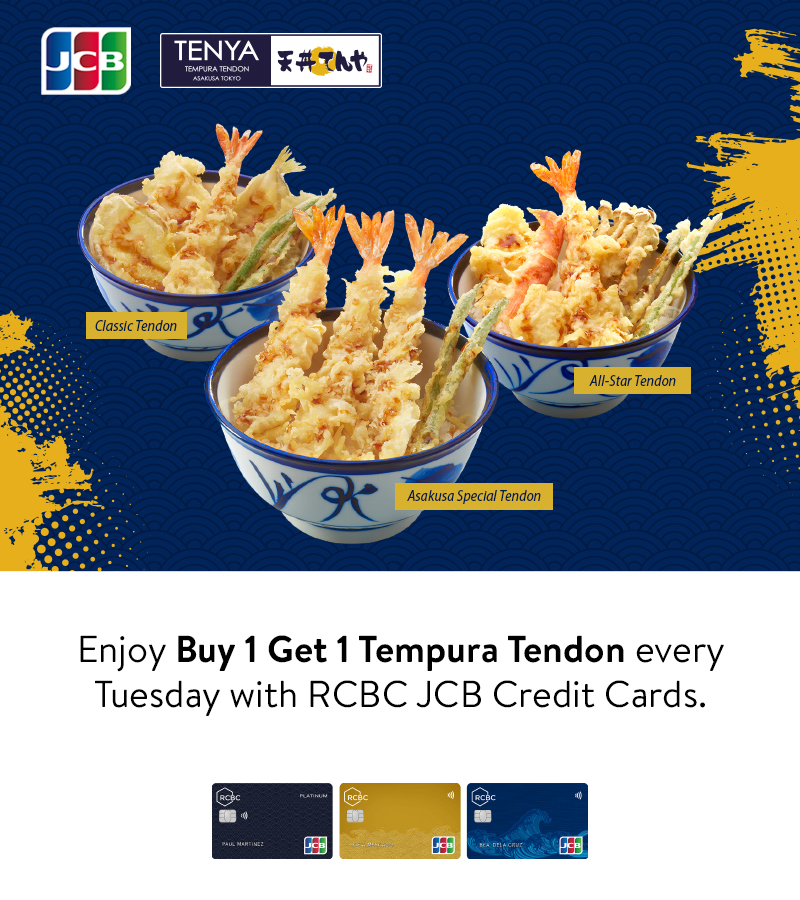 Terms and Conditions:
The promo is open to all RCBC JCB Credit Cardholders whose accounts are active, current, and in good credit standing.
Cardholders in good credit standing are those with RCBC JCB Credit Cards that are not reported lost or stolen, whose accounts are not delinquent, not under investigation due to suspected fraud, and those who have not violated any of the Terms and Conditions governing the Issuance and Use of JCB credit cards.
Cardholders may enjoy a Buy 1 Get 1 offer on the following tendon bowls every Tuesday when they dine and pay using their RCBC JCB Credit Card:
Regular-sized Classic Tendon bowl (₱295)
Regular-sized Asakusa Special Tendon bowl (₱395)
Regular-sized All-Star Tendon bowl (₱395)
Cardholders are entitled to one (1) transaction per cardholder per visit per branch.
The offer is valid for dine-in transactions every Tuesday from September 5 to November 28, 2023.
Splitting of transactions into smaller amounts during a single purchase to get multiple discounts or freebies is not allowed.
The Promotion is non-transferable, non-cumulative, cannot be exchanged for cash or other products, and cannot be used in conjunction with any other discounts, promotions, or fixed-price items, unless otherwise stated.
Cardholders with mandatory and government-regulated discounts have the option to choose which promo or discount to apply. In the purchase of goods and services subject to a promotional discount, the cardholder can avail of the promotional discount OR the discount provided under the Expanded Senior Citizens Act of 2010, Magna Carta for Disabled Persons, and other applicable laws and regulations, whichever is higher.
The use of the RCBC JCB Credit Card in connection with this promo is subject to the Terms and Conditions governing the issuance and use of the RCBC JCB Credit Card.
Any amendment in the terms and conditions is subject to DTI approval.
Per DTI Fair Trade Permit No. FTEB-166372, Series of 2023