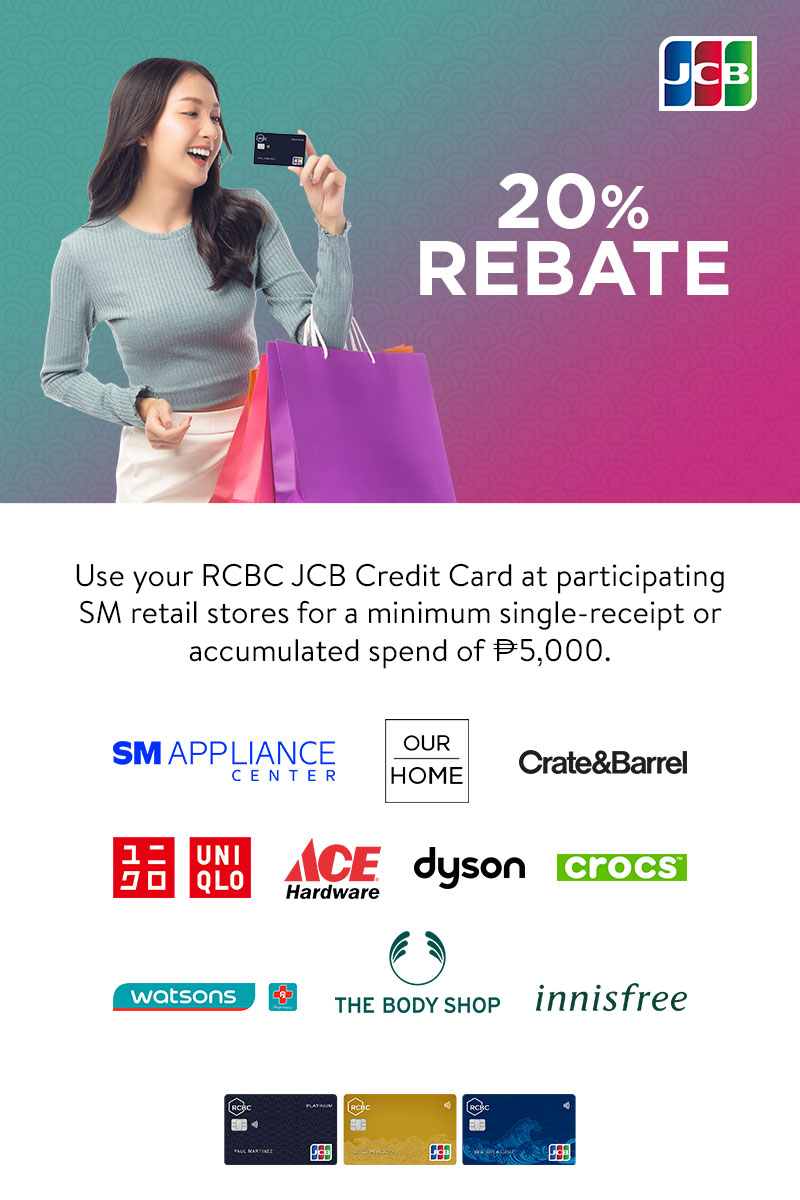 Promo Mechanics
The promo is open to all active Principal and Supplementary RCBC JCB Credit Cardholders only.
Promo is valid on the following dates:
October 19 to 21, 2022
November 19 to 21, 2022
December 19 to 21, 2022
How to Earn Rebate
Cardholder must use his/her qualified RCBC JCB Credit Card for a minimum single-receipt or cumulative straight purchase (in-store/online) of ₱5,000 at the following SM Retail Stores within the specified promo period, to get 20% REBATE.
PARTICIPATING SM RETAIL STORES
Ace Hardware, Crate & Barrel, Crocs, Dyson, Innisfree,
Our Home, SM Appliance, The Body Shop, Uniqlo, Watsons
Online purchases from Shop SM/SM Department Store and The SM Store online/mobile app and installment purchases are excluded from the promo.
The maximum rebate per cardholder every promo period is ₱2,000.
Earned rebate from a supplementary cardholder's spend will be accounted and credited to the primary cardholder's account.

Total earned rebate will be credited to Principal Cardholder's account based on schedule below:
November 30, 2022 - (Spend from October 19 to 21, 2022)
December 31, 2022 - (Spend from November 19 to 21, 2022)
January 31, 2023 - (Spend from December 19 to 21, 2022)
RCBC JCB Credit Card must be active and of good credit standing at the time of crediting of the cash rebate, otherwise, the cash rebate earned shall be forfeited.

Rebates awarded are non-transferable and non-convertible to cash, however, it is treated as a credit or payment for purchases or any outstanding balance on the Card.
Terms & Conditions
The promo cannot be used in conjunction with other ongoing promotional offers of RCBC Credit Cards. Transactions that were already used to redeem treats or rebate/cash back or points multiplier from other RCBC Credit Card promos (e.g, SM 3-Day Sale, Spend Anywhere, Credit Card Activation Programs, and other rebate/cash back and discount offers and the like) can no longer be used to avail of the promo and vice versa. If found to have multiple availments, RCBC Credit Cards shall have the right to reverse the rebate amount credited to the Cardholder's account, at RCBC Credit Card's discretion. RCBC Credit Cards has sole discretion in qualifying the transactions of a Cardholder based on the mechanics of the Promo. Once qualified by RCBC Credit Cards, the transaction can no longer be used for another RCBC Credit Cards' promo even if the said transaction meets the criteria of the other promo.
RCBC Credit Cards reserves the right to reverse or adjust the rebate posted if the qualifying transactions were disputed or cancelled on a later date, or if the transaction is found to be invalid or fraudulent, or a reversal of entry is made on any of the qualified transactions, or if there is erroneous posting of the rebate, or if the transaction was used to register or redeem from another ongoing RCBC Credit Cards promo.
In case of dispute but not limited to the Cardholder's eligibility, coverage of dates and fulfillment, RCBC Credit Cards' decision shall prevail with concurrence of DTI. All questions or disputes must be raised by the Cardholder within sixty (30) calendar days from the posting of the rebate by the issuing bank or not later than March 1, 2023.
The promo is subject to the General Terms and Conditions governing the issuance and use of RCBC Credit Cards.
Any amendment in the terms and conditions is subject to DTI approval.
Per DTI Fair Trade Permit No. FTEB-153171, Series of 2022