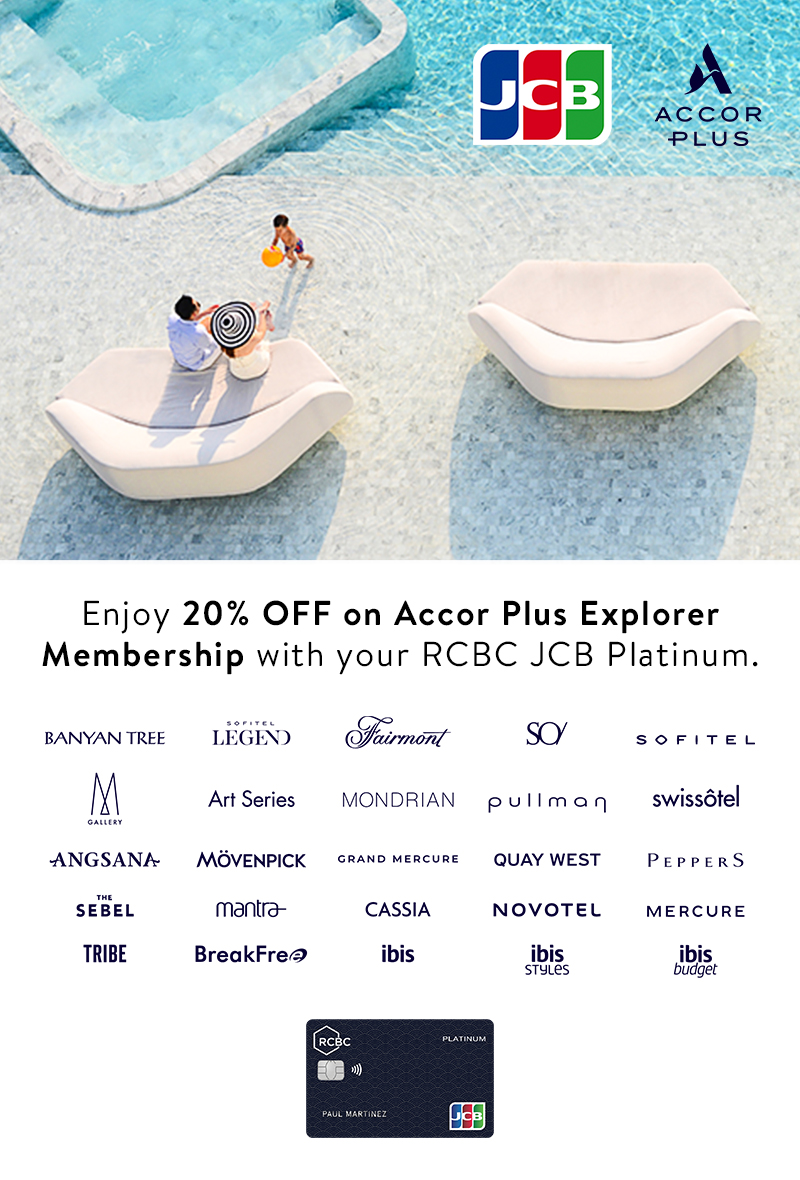 PROMO MECHANICS:
The promo is open to all active RCBC JCB Platinum Credit Cardholders joining Accor Plus for the first time. Promo is not applicable to current or former Accor Plus members.
This Promo Period is from May 10 to June 10, 2023.
RCBC JCB Platinum Credit Cardholders are entitled to get 20% OFF on the Accor Plus Explorer Membership Fee. Sample computation:
Regular Price
Discounted Price for
RCBC JCB Platinum
₱9,800
₱7,840
To avail, cardholders must go to www.accorplus.com/ph/jcb and input all the necessary details (Customer Name, Address, RCBC JCB Platinum Credit Card Number).
To avail of the promo, card member must charge the total amount to his/her RCBC JCB Platinum Card in a single-receipt transaction.
RCBC JCB Platinum Cardholders are entitled to one (1) time availment only.
The offer is not convertible to cash. It cannot be exchanged for any other products.
The cardholder shall review and agree to be bound by the terms and conditions of the Merchant.
In case of dispute such as, but not limited to Cardholder's eligibility, coverage of dates, fulfillment etc., RCBC Credit Cards/RCBC Bankard Services Corp. (RBSC) decision shall prevail with prior approval from DTI. All questions or disputes regarding the Cardholder's eligibility for the Promo or any redemption shall be resolved by RCBC Credit Cards/RBSC with concurrence of DTI.
Per DTI Fair Trade Permit No. FTEB-164764 Series of 2023.